Nivel:

19
Blinduri:

4,000/8,000
Ante:

0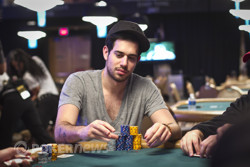 Welcome to Day 3 of Event #57: $5,000 Pot-Limit Omaha Hi-low Split-8 or Better. What started as a field of 352 players is now down to the final 25, all gunning for $397,073 first-place prize. Leading the way as chip leader is none other than Nick Schulman, who bagged 772,000 chips late last night.
Schulman isn't the only big name who'll be returning today. Allen Kessler (568,000), Phil Laak (319,000), Nick Binger (303,000), David Bach (310,000), Lee Watkinson (111,000), and David Sands (110,000) are all still in contention for the last non-Main Event gold bracelet of the 2011 WSOP.
Action will resume at 3 p.m. PST, which is just over an hour away. The plan is to either play down to a winner or ten levels, whichever comes first. No doubt many eyes will be glued to our Main Event coverage, you'll want to be sure to check out the live updates from our $5K PLO8 event as the last bracelet winner, at least until November, will likely be crowned.
| Table | Seat | Player | Chips |
| --- | --- | --- | --- |
| 130 | 1 | Nick Binger | 303,000 |
| 130 | 2 | Igor Sharaskin | 99,000 |
| 130 | 3 | Bjorn Verbakel | 26,000 |
| 130 | 4 | Peter Levine | 112,080 |
| 130 | 5 | Raymond Dehkarghani | 266,000 |
| 130 | 6 | Joseph Marchal | 15,000 |
| 130 | 7 | Bryce Yockey | 323,000 |
| 130 | 8 | Austin Marks | 230,000 |
| | | | |
| 135 | 1 | Nick Schulman | 772,000 |
| 135 | 2 | Padraig Parkinson | 36,000 |
| 135 | 3 | Kirill Rabtsov | 115,000 |
| 135 | 4 | Trevor Reader | 292,000 |
| 135 | 5 | Tobias Hausen | 139,000 |
| 135 | 6 | Brent Wheeler | 157,000 |
| 135 | 7 | Allen Kessler | 568,000 |
| 135 | 8 | David Sands | 110,000 |
| 135 | 9 | Phil Laak | 319,000 |
| | | | |
| 136 | 1 | Alexander Dovzhenko | 103,000 |
| 136 | 2 | Marcelo Costa | DNR |
| 136 | 3 | David Bach | 310,000 |
| 136 | 4 | Fabrizio Gonzalez | 100,000 |
| 136 | 6 | Anders Taylor | 135,000 |
| 136 | 7 | Grayson Nichols | 90,000 |
| 136 | 8 | Peter Charalambous | 134,000 |
| 136 | 9 | Lee Watkinson | 111,000 |
Event #57: $5,000 Pot-Limit Omaha Hi-low Split-8 or Better
Ziua 3 început