Missed Queen High Flush Draw Good For KO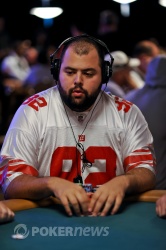 We only saw the end of the flop action in a hand where Brandon Riha was eliminated in pretty sick fashion against Bryan Colin. But another player at the table and then Riha told us what had happened that led up to the point that we started watching.
According to Riha, Bryan Colin raised to 1,700 in the cutoff preflop and the small blind plus Riha in the big blind both called. Then on the



flop, the small blind led for 3,700 and Riha raised to 9,200. This is where we caught up with the action ourselves where Colin then re-raised to 18,600 and Riha moved in for 29,500 on top. Colin made the call to put Riha at risk as the players turned up their hands.
Riha:



Colin:


If Riha had hoped to get called when he shoved, then surely he would have wanted it to be by a made hand so that his flush draw was at least live. Instead, Colin had a higher flush draw to have Riha who would now need to pair up crushed. The

on the turn was close but no good and the

on the river sealed the knockout for Colin with just a queen kicker as Riha was eliminated.