Kiddie Game's Down the Street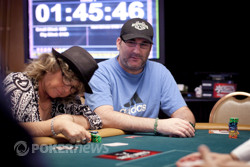 Jason Lester and Mike Matusow were heads-up on the turn with the board reading



. There was roughly 15,000 in the middle, and Matusow made a pot-sized shove. Lester tank called, but was in bad shape.
Matusow:

Lester:


Only a jack would eliminated Matusow, and he survived when the

hit the river. The Mouth is now up to 57,000 chips, while his good friend Lester dropped to about 33,000.
Jucător
Fise
Progres

57,000

26,500

33,000

-36,300