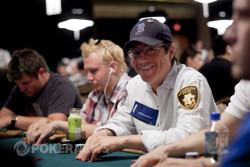 With around 13,000 in the pot and a board reading





, an unknown player had bet 8,250 into 2006 WSOP Main Event Champion Jamie Gold. "Wow," Gold exclaimed as he thought about the decision. "This is either going to be the worst call ever or the greatest call ever. I'm glad the TV cameras aren't here."
While the cameras weren't rolling, PokerNews was on hand to see Gold splash in a call. His opponent insta-mucked and Gold clapped his hands together and shouted, "Yes," much like he did on his remarkable Main Event run five years ago. Gold showed


to officially claim the pot while adding, "I couldn't even beat a nine."
As the minutes tick down here in the last level of the night, it appears Gold's stack of 90,000 ought to be enough to cruise into Day 2.
Jucător
Fise
Progres

Jamie Gold

90,000

18,000