Are You Ready for More Limit Hold'em?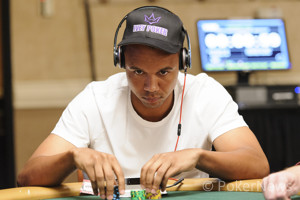 In two and a half hours we're about to start Day 2 of the $1,500 Limit Hold'em event. The plan is to play either 10 levels, or stop when we reach a final table.
From the 645 who started, 177 remain, with local Las Vegas player Thomas Blizniak in the lead with almost 46,000 in chips. Amongst the bigger stacks we see former November Niner Steve Gee (39,800), Nick Schulman (31,800) and Kevin MacPhee (28,700).
The first level of play will be 300/600 (600/1,200 limits). Those blinds will be big for the short stacks we have in the field. Amongst them Todd Witteles (3,500), Phil Ivey (3,900) and Matt Hawrilenko (9,100). But limit can be a swingy game, so we'll see soon enough if these players can swing back into a playable stack.
Follow the action from 2 p.m. as we bring you updates from the very start till the last chips are bagged for the day.