Nivel 27 : 20,000/40,000, 5,000 ante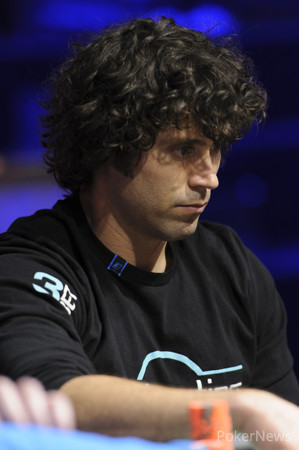 Scott Clements went into the dinner break with a comfortable lead and in excellent position to win his third WSOP bracelet. PokerNews' Pamela Maldonado caught up with Clements to discuss his chase for the bracelet trifecta.
PokerNews: Your last bracelet achievement was in 2007 and came close to adding another in Omaha events twice in 2009. How important is it to you to win a bracelet in a no-limit hold'em tournament?
Clements: Every bracelet is important. It's my goal for me to win the $50,000 Players Championship before I die. That is the one bracelet I have my heart set on, but all the rest, whether no-limit or Omaha or even another game, they're all of the same importance.
We heard a rumor that back in February you said you wouldn't cut your hair until you win a bracelet. We see your hair is getting a bit long, is that bet still in place?
It wasn't actually until I win a bracelet. It was that I wouldn't cut my hair until I have a $100,000 score. As of today, I've reached that dollar amount. Third place is guaranteed at least $185,000 so as of today I'll get to cut it. Maybe now I'll wait and see if I can win a bracelet first.
How do feel about your game at the final table?
I am very happy. Simply put, I like my spot. I feel so comfortable with where I am, with my competitors, with my chip stack, I just overall am happy with where I'm sitting. Benny is a very good player and Levi seems to be playing well too, but I'm just confident right now.
Is there any key hand or pivotal moment that helped lead you to where you're at right now?
Early in the tournament I had pocket queens versus Chris Moorman's ace-king. I had a lot of chips but he was maybe chip leader at the time. It was of course a big flip but I won that flip which put me up toward the top. That jolt really helped give me the freedom for the rest of the tournament. From that point, there weren't really any spots where my stack got low. It's been a good run since.
If you were to win the bracelet tonight, how will you celebrate?
I will spend the morning with my wife and kids. I'll be playing in the $1,500 H.O.R.S.E. event at noon tomorrow also. If I bust the H.O.R.S.E, then I might play in the heads-up event, but I definitely won't miss the noon event. I love H.O.R.S.E.