Event #11: $2,500 No-Limit Hold'em (Six Handed)
Zilele: 3
Event #11: $2,500 No-Limit Hold'em (Six Handed)
Ziua 3 început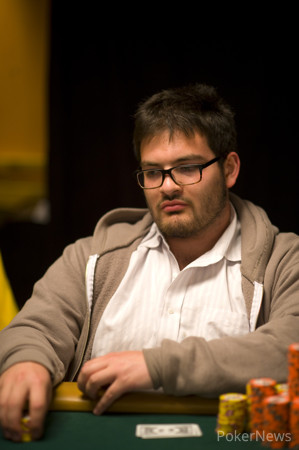 If today is anything like the past two, it should be a fun final day of Event #11 $2,500 No-Limit Hold'em Six Handed. After ten levels of play yesterday, we turned 122 players into just 14, and at the end of the night, Levi Berger is the big chip leader with 1.42 million, which has everyone else covered by over 500,000 chips.
All of the stars came out for this event, and we still have a few notables still in the running for this event. Tuan Le has won many tournaments in his career, but a bracelet has always eluded him. This could be his best chance yet, as he comes into today second in chips with 873,000. The player in third knows plenty about winning bracelets: Scott Clements. He has won two of them, though his last WSOP win was back in 2007 in a $1,500 Pot-Limit Omaha event. Clements will return with 842,000.
Rounding out the top 5 is Eddy Sabat (694,000) and Jacob Bazeley (638,000). Bracelet winner Cliff Goldkind sits in 9th place (318,000), and Mickey Petersen is at the bottom of the counts with 145,000. Petersen is one of the most experienced players of the final day, so don't count him out despite his short stack.
Day 3 is set to commence at 1 PM local time, and we are looking to crown another bracelet winner today. Once we get to the final table, Pokernews.com will be bringing you all of the action, hand-for-hand. You won't want to miss that, so don't go anywhere!
Nivel: 21
Blinduri: 5,000/10,000
Ante: 1,000
Nivel 21 : 5,000/10,000, 1,000 ante
The players are back in their seats, and Day 3 is kicking off!
Nivel 21 : 5,000/10,000, 1,000 ante
About 10 seconds apart from each other, Mickey Petersen and Ben Palmer have both doubled up on seperate tables. The first one was Palmer, who shoved all in for 168,000 after Tuan Le made it 22,000. Le called, and his


was in terrible shape against the


of Palmer. Le never had a sweat, as the board ran down





, giving Palmer some much needed chips.
On the other table, Petersen was all in with


, and he was in a coin flip with Tamara Tibbles, who showed


. The board ran out all under cards for Petersen, coming




.
Nivel 21 : 5,000/10,000, 1,000 ante
Levi Berger raised it up from 20,000 in the cutoff, and he got calls from Eddy Sabat on the button and David Gonia in the small blind. Gary Pearce then moved all in from the big blind for his last 136,000, and after some thought, Berger called. The rest got out of the way, and we were heads up.
Berger:



Pearce:


The flop was safe for Pearce, coming



, and the hand was over when the

hit the turn, pairing Pearce. The

on the river was bit of a needle for Berger, as he would have won had Pearce not turned the queen, but Berger is still plenty fine with 1.34 million.
Nivel 21 : 5,000/10,000, 1,000 ante
It's not uncommon to see poker players representing their various favorite sports team, but today it is interesting to see almost half of the players in the field rocking various logos. Here's who they are wearing.
Gary Pearce- Green Bay Packers
David Gonia- Minnesota Wild
Jacob Bazeley- Cincinnati Reds
Luke Vrabel- Montreal Expos
Ben Palmer- Miami Heat
Tuan Le- USC Trojans
What team will last the longest?
Nivel 21 : 5,000/10,000, 1,000 ante
Tuan Le made it 21,000 on the button, and Marcio Cid moved all in from the big blind for his last 208,000. Le tanked for a while before eventually finding the call button.
Le:



Cid:

It was a race for Cid's life, and just like in the Petersen double, the pair held, as the board came down




. After taking that hand, Cid is up to 426,000, while Le drops to 610,000.
Nivel 21 : 5,000/10,000, 1,000 ante
Levi Berger made it 20,000 to go from the small blind, and Eddy Sabat three bet to 58,000 from the big blind. Berger called, and the flop came down



. Berger checked to Sabat, who kept up the aggression with a bet of 63,000. Berger elected to check raise it to 125,000, and when it got back to Sabat, he put Berger to the test with an all in move for about 500,000. It was too much for Berger, who kicked his hand in, giving the nice sized pot to Sabat.
Nivel 21 : 5,000/10,000, 1,000 ante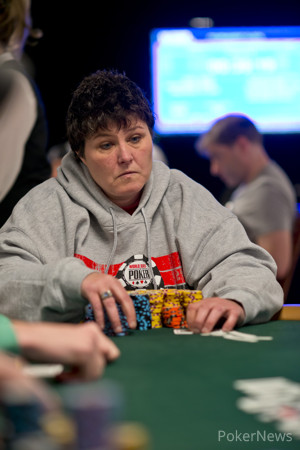 Action folded to Tamara Tibbles in the cutoff, and she open shipped all in for her last 135,000. Mickey Petersen was next to act, and he moved all in for more. The blinds folded, and Petersen had Tibbles crushed.
Tibbles:



Petersen:


Tibbles didn't pair the flop, but it was still great for her, coming down


. Tibbled could now catch a heart in addition to the four, but neither one came, as the board completed

and

. Petersen upped his stack to 600,000, while the last woman standing was eliminated just short of the final two tables.