Event #13: $5,000 Seven-Card Stud Hi-Low 8-or-Better
Zilele: 1
Event #13: $5,000 Seven-Card Stud Hi-Low 8-or-Better
Ziua 1 terminat
Nivel 8 : 500/1,000, 100 ante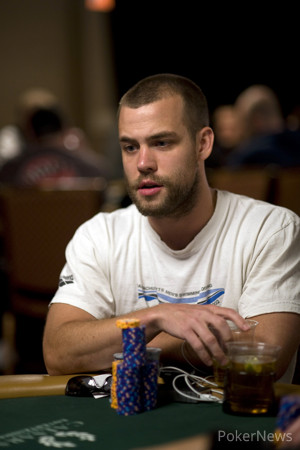 The first $5,000 buy-in non-hold'em event of the 2013 World Series of Poker, Event #13: $5,000 Seven Card Stud Hi-Low Split 8-or-Better, kicked off today as 210 players (down two from 2012) packed the Orange Section of the Amazon to play eight one-hour levels. By the end of the night, 130 players remained with Matt Woodward and his stack of 59,700 leading the way.
Others still in contention with decent stacks include Yuval Bronshtein (57,200), Ilya Gorodetskiy (56,300), Gavin Smith (51,900), Matt Lefkowitz (50,300), David Bach (49,700), Toby Hausen (49,300), Sanjay Pandya (49,000), Kevin Vo (48,500), Mike Leah (46,900), Michael Chow (45,900) and Maria Ho (44,000).
The day began with a number of notables in the field including legendary Stud champion and four-time WSOP bracelet winner Artie Cobb; bracelet winner Cheech Barbaro; 2012 WSOP Event #4 $1,500 Seven Card Stud Hi-Low 8 or Better champ Cory Zeidman; and noted poker theorist David Sklansky. Of those only Barbaro failed to advance.
Speaking of players to go, George Danzer was the first elimination of the day, though he wouldn't be the last. Among those to hit the rail on Day 1 were Frank Kassela, John Monnette, Chris Tryba, Greg Raymer, Mike Gorodinsky, Alexander Kostritsyn, Calvin Anderson, Scott Seiver, Chino Rheem, Layne Flack, Vanessa Selbst and Phil Ivey just to name a few.
Day 2 action will kick off at 2:00 p.m. PST on Thursday, so join us then as we bring you all the action and eliminations from the premiere Stud Hi-Low Split 8-or-Better event of the summer.
Nivel 8 : 500/1,000, 100 ante
Jucător
Fise
Progres

Matt Woodward

58,700

58,700

Yuval Bronshtein

57,200

3,200

Ilya Gorodetskiy

56,300

56,300

Gavin Smith

51,900

21,900

Matt Lefkowitz

50,300

-14,700

David Bach

49,700

5,700

Toby Hausen

49,300

14,300

Tuan Vo

48,500

48,500

Mike Leah

46,900

16,900

Michael Chow

45,900

Maria Ho

44,000

21,000

Jared Talarico

43,800

-200

Todd Ickow

43,400

43,400

Farzad Bonyadi

42,300

8,300

Jose-Luis Velador

42,100

42,100

Sanjay Pandya

40,900

40,900

Naseem Salem

40,800

40,800

Daniel Negreanu

40,200

Scott Anderson

39,600

39,600

Tony Cousineau

39,000

5,000

Todd Brunson

38,500

26,500

Alexey Makarov

37,600

37,600

Richard Chiovari

37,500

37,500

Joshua Karnad

37,000

37,000

Eric Buchman

36,200

-5,800
Nivel 8 : 500/1,000, 100 ante
The tournament staff has just announced that each table will play five more hands before calling it a night. We're off to catch any last-minute hands and to compile a list of end-of-the-day chip counts. Stayed tuned for those and a recap of the Day 1 action.
Nivel 8 : 500/1,000, 100 ante
We didn't see the hand, but defending champ Adam Friedman informed us that he had just won a healthy 14,000 pot. According to him, he started with pocket fours and failed to improve as Nick Verkaik, who finished 13th in this very event last year for $14,009, fired each street.
Nonetheless, Friedman called him down and was right. His fours were good and he scooped the pot. Making tough calls is certainly one way to become champion.
Nivel 8 : 500/1,000, 100 ante
Unlike many tournament fields in the modern poker era, the Stud Hi-Low event allows notable professionals one of the best chances at winning another gold bracelet. Stud Hi-Low is one of the more obscure and technical poker games, the finer nuances of which are usually only known to hardened professionals.
As we near the end of day 1, here are some notable players that cashed in the 2012 event and are going for a repeat in 2013: Adam Friedman (1st - $269,037), Todd Brunson (2nd - $166,269), Phil Ivey (7th - $34,595), Phil Hellmuth (15th - $11,637), Eli Elezra (19th - $9,675) and Andy Bloch (21st - $9,675).
Nivel 8 : 500/1,000, 100 ante
We didn't catch the action, but we did arrive at the table just in time to watch Matt Glantz being pushed a pot of right around 10,000. His opponent's cards had already been mucked, but we do know that Glantz scooped with a flush holding




/


.
Nivel 8 : 500/1,000, 100 ante
There's only one level left in the night, and the eliminations are beginning to pick up. Below is a look at some of those who've been bounced from the tournament.
Busto the 5k Stud8. Time for sleeeeeeeeeeep...
Follow @KevinMacPhee
Nivel: 8
Blinduri: 500/1,000
Ante: 100
Nivel 7 : 500/1,000, 100 ante
Adam Friedman:


/




/


David Chiu:


/


/

We caught the action on fourth street when David Chiu and Adam Friedman, the latter being the defending champion, both checked. Friedman then checked fifth and Chiu bet 1,000. Friedman woke up with a check-raise to 2,000, Chiu called and then both players returned to checking on sixth.
Friedman checked yet again on seventh, and Chiu took the opportunity to bet 1,000. "Wow," Friedman said before thinking for about 30 seconds. "You're the best, David," Friedman added before folding his hand.