Welcome to Event #13: $5,000 Seven Card Stud Hi-Low Split 8-or-Better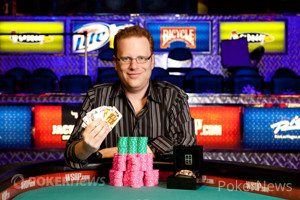 The $5,000 buy-in events at the World Series of Poker are considered championship events of sorts, especially when they're held in a variation other than Texas hold'em. Today, the first non-hold'em $5,000 buy-in event kicks off with Event #13: $5,000 Seven Card Stud Hi-Low Split 8-or-Better, and we expect to see poker's best players turn out in force to compete for this prestigious title.
Last year, this event attracted a field of 212 players and created a prize pool of $996,400. The field was comprised of professionals from all over the world, but in the end the title went to Adam Friedman, who ironically had been featured in a Where Are They Now? piece on PokerNews just a few weeks prior to his win. Friedman let the world know exactly where he was and in dramatic fashion too as he defeated a final table that included Bryn Kenney (8th), Phil Ivey (7th), Nikolai Yakovenko (4th), John Monnette (3rd) and Todd Brunson (2nd).
Friedman will be back to defend his title, and we've already confirmed that Daniel Negreanu, David Bach (who has never cashed in a Stud 8 tournament), Tom Koral and even famed ESPN commentator Norman Chad will be playing today.
I'll play against the world's best today at the WSOP $5,000 stud/8 event. My secret weapon: Odorless cologne, and a roll of Lifesavers.
Follow @NormanChad
Of course there will be dozens more recognizable names by the time registration comes to a close. Action will kick off at 5:00 p.m. PST, and the plan is to play eight one-hour levels. Throw in an hour's worth of breaks, and that means we'll be playing to 2 a.m. PST. It's going to be a long night full of top-notch poker action, so be sure to join us in about in hour as we cover the premiere Stud Hi-Low Split 8-or-Better event of the summer.