"The Hillbilly Got Me"
Nivel 4 : 75/150, 0 ante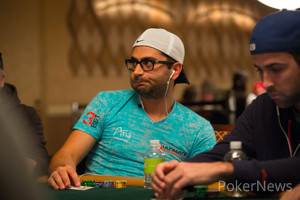 We didn't catch the hand but we did catch the aftermath of Antonio Esfandiari's bust out. Esfandiari was standing up from the table talking to the player who busted him. "You wanna flip for a dime?" he asked the player. "One thousand dollars, what color do you think your first card will be?"
"I think it's gonna be red," he said.
"Ok let me sweat it with you," Esfandiari said. Esfandiari stopped packing his things and moved over to where he and the other player could both sweat the card. "Ship it!" Esfandiari said seeing that it was black. "Alright, when you bust tonight we're going out to a fancy dinner ok?"
"I'm not gonna bust though," the player said. "I busted another pro. I got quads on you. Life is good." The table erupted in laughter.
"Yo, Antonio, are you out?" someone shouted from another table.
"Yeah," he responded. "The hillbilly got me." With that, Esfandiari collected his belongings and hit the rail.