Event #14: $1,500 No-Limit Hold'em
Zilele: 1
Nivel: 6
Blinduri: 100/200
Ante: 25
Nivel 5 : 100/200, 0 ante
PokerStars Team Pro Andre Akkari, who hails from Brazil, has made his presence felt here in the Brasilia Room. The longtime pro, who took down the crown in Event #43 ($1500 No-Limit Hold'em) for $675,117 at the 2011 WSOP, has built a huge stack here today courtesy of a massive triple-up hand. We missed the action ourselves, but Akkari took to Twitter to celebrate the win, and while we can't translate from Portuguese, the ear to ear smile Akkari flashed while stacking his new chips spoke the universal language of celebration.
All in triplo gigante na WSOP de 1,5k eu QQxAKxA6 e amassa pra ca! Mas o foco agora é no @marciocid vamooooo
Follow @aakkari
Nivel 5 : 100/200, 0 ante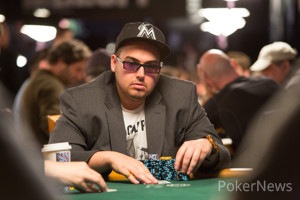 We just passed by Dan "Miami Boss" Suied's table and, while the self-styled impresario of the South Beach poker scene is currently sitting on a short stack, his impeccable style and brash persona were had to miss.
With two deep runs in World Poker Tour events this year, and a cash in the WSOP already (Event # 12, $1,500 Pot-Limit Hold'em, 19th place, $3,409), the Boss will be looking to keep the run good going here as Day 1 continues.
Jucător
Fise
Progres

Dan Suied

2,400
Nivel 5 : 100/200, 0 ante
Payout information has been released. One hundred and ninety eight players will make the money and the first place prize is a whopping $454,424.
Nivel 5 : 100/200, 0 ante
The following players are no longer in the field:
Nivel 5 : 100/200, 0 ante
We missed the bustout hand, but Greg Raymer is now conversing with a friend still in the field, and he has been eliminated here on Day 1 of this event.
Jucător
Fise
Progres

Greg Raymer

Eliminat
Nivel 5 : 100/200, 0 ante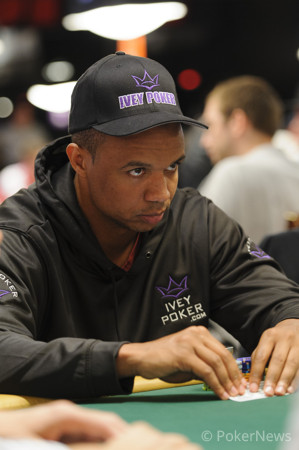 Being seated next to Phil Ivey can be a frightening experience. Recently he was moved to a table near the rail in the bronze section.
In a recent hand, one player limped in middle position. The player in the small blind called, and Ivey checked his option. The flop came down



and action checked to Ivey who bet 350. Everyone folded without giving it much thought.
Ivey may have just entered the Brasilia room but he's already off to a good start.
Jucător
Fise
Progres

Phil Ivey

4,900
Nivel 5 : 100/200, 0 ante
In what has become a time honored tradition here at the WSOP, players have returned from the break in a gambling mood, and the Brasilia Room is now filled with the familiar refrain offered to all fallen players.
As the announcement of "Seat Open!" echoes throughout the room, and our field continues to be chopped down to size, players can be seen standing to depart every few moments.
Nivel 5 : 100/200, 0 ante
With the Brasilia Room emptied out for the last 20-minute break, we saw two players still seated and engaged in a hand at least five minutes after the room had cleared.
Eliyahu Levy made a large bet on the


flop, and his opponent withdrew deep into the tank to mull his options. Eventually, the player elected to shove his stack forward for an all-in move, but he was visibly dismayed when Levy quickly verbalized a call.
The player tabled
, but his power play had failed to push Levy off of

. The turn and river offered no help to the cowboys, and the player earned the ignominious honor of being eliminated during the break.
Nivel: 5
Blinduri: 100/200
Ante: