Event #14: $1,500 No-Limit Hold'em
Zilele: 1
Nivel: 4
Blinduri: 75/150
Ante:
Greg Maynard fits the bill of the traditional poker player, with his Tommy Bahama shirt and mild manner evoking prior generations of WSOP competitors. While the hyper-aggression of five-betting light and polarized ranges may be all the rage these days, Maynard just proved that A-B-C poker still has its place.
With the board reading



, Maynard had shoved all-in over the top for his last 3,700 chips. After tanking for quite a while, a young opponent with a decidedly online air to him appeared pained by his decision making process, but he eventually called off a large portion of his stack.
Showdown:
Maynard:



Opponent:


Although the young man had read Maynard correctly for a flush draw, his low pair was still beaten by Maynard's eights. A blank on the river shipped the pot to Maynard, while his befuddled opponent went straight to his iPhone, likely to regale the online community with another tale of the fish not cooperating with a fancy play.
Jucător
Fise
Progres

Greg Maynard

9,800

9,800
Nivel 3 : 50/100, 0 ante
Current 2013 WSOP Player of the Year Standings
| Place | Player | Points |
| --- | --- | --- |
| 1 | Daniel Negreanu | 427.15 |
| 2 | Benny Chen | 300.00 |
| 3 | Charles Sylvestre | 260.00 |
| 4 | Daniel Marton | 252.00 |
| 5 | Trevor Pope | 240.00 |
| 6 | Matt Waxman | 233.00 |
| 7 | Bryan Piccioli | 226.50 |
| 8 | Dan Kelly | 212.20 |
| 9 | Michael Bennington | 210.00 |
| 10 | Cliff "JohnnyBax" Josephy | 200.00 |
Nivel 3 : 50/100, 0 ante
There are a couple players we saw leaving their tables, and a couple players we saw taking their seats:
Nivel 3 : 50/100, 0 ante
Liv Boeree joined us and not long after she was short stacked. We did catch a triple up from her though.
From under the gun, Boeree moved all in for her last 400 chips. She was called by the player in the small blind and the player in the big blind. The dealer rolled out the


flop and the player in the small blind bet 550. The player in the big blind folded.
Boeree was ahead with


but the small blind player had plenty of outs to catch with

. The turn was the

and the river was the

though, and it was safe for Boeree to triple up.
Hot on the heels of his recent deep run in Event #4: $1,500 No-Limit Hold'em (Six Handed), online player Tayfun "Ty" Akbasil just claimed an enormous pot that likely makes him the early chip leader here on Day 1.
We caught the action as the pot of 22,325 was being pushed to Akbasil, but experienced pro Andy Philachack was kind enough to relay the action to our PokerNews Live Reporting station.
According to Philachack, a player raised from under the gun, and Akbasil three-bet to 600. Having woke up with


, Philachack pumped it up to 2,000 with a four-bet, and that's where things got interesting.
Akbasil elected to five-bet to 4,000, but perhaps confused as to the stack sizes and mistakenly believing he was calling an all-in by Philachack, he tabled his


as he did so.
With the action back on him, and chips still in front of him to bet, Philachack was now faced with the unique conundrum of playing a chip-leadership deciding pot against an opponent playing with his hand exposed. Philachack tells us that his first instinct was to fold in a marginal coin flip situation, before a third player at the table volunteered that he folded ace-king. Secure in the knowledge that his opponent's outs were now limited to four, rather than six, Philachack made the call holding the lead in the hand.
Flop:



With that, Akbasil's limited outs had delivered, and Philachack was the one left drawing thin. When no help arrived on the turn or river, Akbasil was the winner, and Philachack was left to wonder what might have been.
***Update: The player in question accused of sharing information during the hand has kindly informed us that, while he did mention folding ace-king, his words came when the board cards were being rolled out, and thus were irrelevant to the action.***
Jucător
Fise
Progres

Tayfun Akbasil

22,325

22,325
Nivel 3 : 50/100, 0 ante
Preflop Lauren Kling was all in for 2,300 with


. Her opponent had


and it was off for the races for the two.
The board rolled out




and it was safe for Kling who doubled back to starting stack.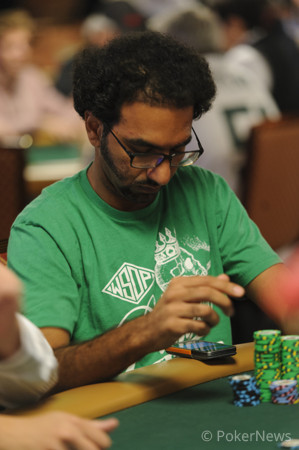 We passed by Table # 40 in the Silver section to check in on the stacked lineup there, and it appears Faraz "The Toilet" Jaka has staked himself to the early lead over his fellow pros Annette Obrestad and Paul "X-22" Magriel.
Jaka has worked his stack to nearly double the starting amount, while Obrestad and Magriel have slipped a bit below the standard.
Sadly, we have no word on how many flushes it took Jaka to get the job done.
Nivel 3 : 50/100, 0 ante
We just found Will "The Thrill" Failla in the field, and he's already taking his opponents on a roller coaster ride.
On a flop od



Failla bet out 250. His opponent raised to 550 and Failla made the call.
The turn was the

and Failla bet out again, this time to 600. His opponent raised all in and Failla snap called, tabling


for a flopped flush. His opponent was still live though with


.
"I need a diamond," she said.
"Keep 'em black." Failla said. "Black!"
The river was a blank for Failla and he was able to score a double up early here in the tournament.
Nivel: 3
Blinduri: 50/100
Ante: