Event #14: $1,500 No-Limit Hold'em
Zilele: 1
Event #14: $1,500 No-Limit Hold'em
Ziua 1 început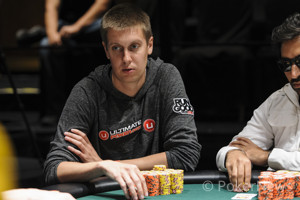 In what is set to be the first full ring, no re-entry $1,500 no-limit hold'em event for the summer, there is sure to be plenty of action and great story lines to follow. Last year in this event, poker pro Brent Hanks won his first WSOP bracelet and $517,725. Not only that he beat a stacked final table including the likes of Vanessa Selbst, JP Kelly, and Andrew Badecker to do so.
Last year, 2,101 players came out to play creating a $2,836,350 prize pool. Expect to see similar numbers today. Another interesting note about this tournament is that players were able to reach the money on their first day of play, one of the only tournaments that happened in. We'll see if we can match that on our way to crown a new WSOP bracelet winner.
Action is set to start in a little over an hour, where player's will begin with 4,500 tournament chips. Make sure you stay tuned into PokerNews.com for all the updates.
For now, here's Sarah Grant with a recap from yesterday's action:
Tournament Director Jack Effel has made the morning announcements and the "Shuffle up and deal!" has been announced. Cards are now in the air.
Nivel: 1
Blinduri: 25/25
Ante:
A familiar face is few and far between in this huge field but here are a few we recognized:
Jucător
Fise
Progres

Matt Salsberg

4,500

4,500

Kathy Liebert

4,500

4,500

David Vamplew

4,500

4,500

Neil Channing

4,500

4,500

Kennii Nguyen

4,500

4,500

Tony Dunst

4,500

4,500

Jason Duval

4,500

4,500

Theo Tran

4,500

4,500

Dominik Nitsche

4,500

4,500

Naoya Kihara

4,500

4,500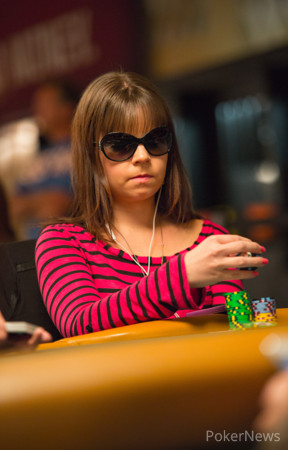 With hundreds of hopeful amateurs taking their seats today in the Rio's Brasilia Room, many of them playing in their first WSOP tournament, the sight of a recognizable professional can be a thrilling experience... as long as their not at your table. For a few unfortunate souls at table # 40 in the Silver section, today's $1,500 No-Limit Hold'em event has become an all-star game, with no less than three accomplished pros beginning the day together.
Annette Obrestad, Faraz Jaka, and Paul "X-22" Magriel are all seated near one another, leading to lively discussion about how the Series is progressing for each. With six-figure scores and final table appearances between them, the amateurs at this table must avoid becoming starstruck, or they will soon be short-stacked.
Players are now filling in their seats and we've started to noticed a few more players: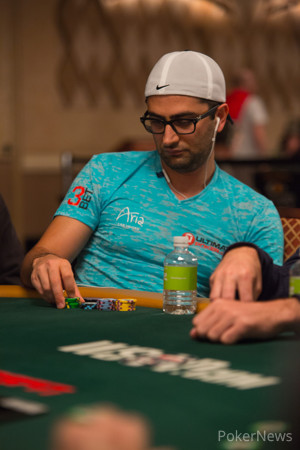 We strolled by Antonio Esfandiari's table and caught the Magician up to his old tricks. Casually munching on a nutritious lunch, the winner of the WSOP Big One for One Drop and poker's largest prize in history three-bet an unknown opponent. The amateur pushed his stack forward and Esfandiari called, rolling over the


.
His opponent tabled,

, however, and was in great shape to cripple a bracelet winner. When the flop brought the


to the felt, giving the amateur top set and all but assuring his double, and Esfandiari continued eating his salad, seemingly without a care in the world.
The turn then came

, and before the suspense had time to build, the dealer peeled off the

on the river. With a runner-runner flush, the pro claimed the pot, and his shell shocked opponent's starting stack.
Esfandiari simply smiled the serene smile of a man living a charmed life, and the amateur quickly departed the tournament floor, having found out that in poker, even three aces can be nothing more than an illusion.
Nivel 1 : 25/25, 0 ante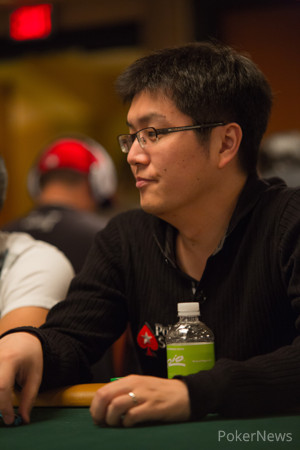 Bracelet winner Naoya Kihara is staying active here in the early levels of the tournament. Standing by his table we watched him play four out of five hands.
In one, a player opened from middle position. Kihara called from the cutoff and the player in the small blind also called.
"I know your calling," the opening raiser said to Kihara.
The flop was


and action checked around. On the

turn, the small blind checked. The opening raiser made a bet of 200 that only Kihara called.
The river was the

. The opening raiser bet 500 and Kihara snap called.
"You got it," the raiser said, mucking his hand.
Kihara showed


anyways and took the pot with two pair. Kihara moved to over 8,000 chips after the hand.
We walked by a table and found two players staring in astonishment at a straight flush on the board. With the





spread neatly across the table, this confrontation ended in a chopped pot, but the man holding


jokingly asked if he could play the low end while describing the runout as the "sickest ever."
His opponent was glad that the answer was in the negatory, as his

had just dodged destruction by hitting perfect-perfect, in an occurence our Poker Odds Calculator shows to be just a 0.1% likelihood.
Judging by the last few hands we've witnessed, pocket rockets just might not be the hand to play here on Day 1 of this $1,500 No-Limit Hold'em event.