Melanie Weisner Working Wonders
Nivel 9 : 300/600, 75 ante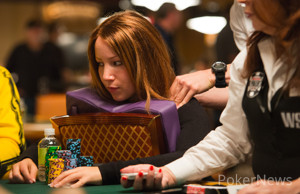 A huge cheer went up over in the Silver section of the Brasilia Room, and we rushed over to find a slightly intoxicated rooting section expressing their undying admiration for one Melanie Weisner. With her


tabled against an opponent's


. and the board reading





, it appeared to be yet another preflop all-in between identical hands ending in a chopped pot. Appearances, however, can be deceiving.
According to the stunned onlookers on the rail, who were treating Weisner like a rock star after this play, the pro check-called bets on the flop and turn, before her opponent shoved all-in on a bold river bluff.
After what was reported to be a five-minute dive into the tank, Weisner made the call with just ace-queen high, earning her half of the pot as only a professional can.
While the dealer stacked the chips in even proportions, Weisner told her opponent "too bad you didn't have ace-ten." The man responded by saying simply "you know you're sick, right?" With her newly burnished table image and a mountain of chips at her disposal, Weisner looks to be a force as Day 1 heads to its conclusion.