Melanie Weisner Busts Chino Rheem
Nivel 5 : 1,200/2,400, 0 ante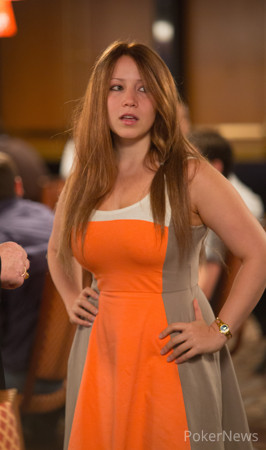 After playing two of the longest matches in the first two rounds, Melanie Weisner just dispatched Chino Rheem in yet another marathon heads-up session.
The crippling hand occurred on a




board, when Weisner responded to a check by Rheem with an all-in shove for 29,000.
Rheem tanked for a while before ultimately deciding to release his hand, but he asked Weisner for the courtesy of seeing a single card from her hand. She obliged, allowing Rheem to choose the card, and he turned over the

. Afterward, he told Wesiner that he folded trip fives, thinking she had made a straight.
Soon after this fold, Rheem was all-in with

against Wesiner's

, and the ace-high held up to send her into the Round of 32.
The two friends began the match with Rheem telling a late arriving Weisner that her stack was being blinded off, and when the chips were stacked in Weisner's corner she couldn't resist the chance to get a needle in of her own.
"Is that 2-for-2 or 3-for-3 against you heads up?" she asked, with a mischievous smile spreading across her face.
"I think that's 80-for-80," he answered quickly, showing that every poker player remembers the losses more than the wins.