Hands 72-74: Radoja Makes Hero Call to Double
Nivel 5 : 20,000/40,000, 0 ante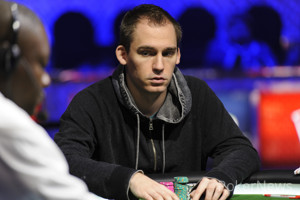 Hand #72 Bonomo mucked his button and surrendered his small blind
Hand #73 Radoja raised to 80,000 and Bonomo came along to see the flop of



hit the table. Bonomo then check-called a bet of 45,000, and the turn came

. Bonomo checked once more, but folded to Radoja's 92,000 wager.
Hand #74 Bonomo opened for 80,000 and Radoja called, bringing on a flop of


. Radoja then check-called a bet of 80,000, taking us to the

on the turn. Both players tapped the table, and the

fell on the river. This is where things got interesting.
Radoja led out for 157,000, and Bonomo paused before sliding a stack of 1 million into the middle. Radoja then went deep into the tank, asking Bonomo "You hit the river there Justin ... you have a nine?"
After contemplating for more than four minutes, and pump faking both a fold and a call, Radoja told Bonomo "I just don't think you have it."
He then announced a call and turned over


for just second pair, bad kicker, and Bonomo revealed his


for a busted bluff.