Catching Up With Cada
Nivel 27 : 25,000/50,000, 5,000 ante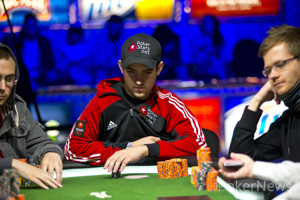 2009 world champion Joe Cada currently ranks third in chips at this final table and is in good position to claim his second WSOP bracelet. PokerNews' Pamela Maldonado chatted briefly with him at the break.
Can you recall any big hands that have helped lead you to where you're at right now?
Wow. Unfortunately all the tournaments are starting to blend in. But I did just run queens into jacks against Polychronopoulos. The board ran and my queens held to double up. It was a pretty good spot. I mean, it's one of those cooler situations. In my last tournament I had the exact opposite with jacks against queens for about the same chips and lost. So today, I was very fortunate to pick up chips when I did.
How do you think you rank at the table as far as skill or experience?
I like my chances against any player really. I have a lot of experience with multi-table tournaments and have played thousands of tournaments online. The players on the final table are playing well but I feel good about my game and the decisions I've been making.
Would you say that you're running well or playing well?
For these tournaments you have to have a combination of both. I feel like I'm playing well but at the same time you have to run well, so maybe both have brought me here.