The March to the Money Continues Here on Day 2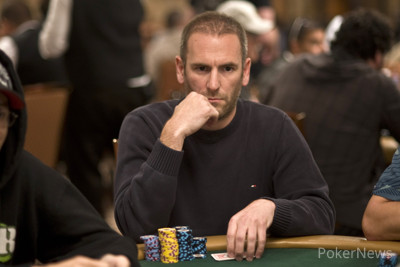 The 2013 World Series of Poker continues today as the remaining 219 players from a 1,104-player field in Event #20 $1,500 Omaha Hi-Low Split 8-or-Better return to the Purple Section of the Amazon Room to battle to the money at the top 117 and onward toward the final table. The man best positioned to make a deep run and claim a large postion of the $1,368,900 prize pool, perhaps even the $277,274 top prize, is the elder-statesman John Larson, who emerged as the Day 1 chip leader with 73,700.
Other notable stacks here at the start of the day are Thomas Besnier (66,600), Eric Sclavos (53,600), Brian Hastings (47,900), Robert "Chip Burner" Turner (47,700), Dmitrii Valouev (42,400), James Bord (40,000) and Matthew Kelly (39,700). Furthermore, some stiff competition, albeit with less chips, remain in Max Steinberg (36,300), Carlos Mortensen (31,500), David Chiu (29,000), Daniel Weinman (28,400), Barry Greenstein (27,900), Men "The Master" Nguyen (27,000), Mike "The Mouth" Matusow (23,700), Owais Ahmed (23,000), Mike Sexton (22,900), Tom Schneider (18,600) and Jennifer Harman (17,000).
The plan for the day is to play ten more one-hour levels, during which time we'll lose 112 players, make the money and continue down toward the final table. We won't quite get all the way there, but we expect by night's end there will be less than three tables still in play.
Action will recommence at 1:00 PST, which is about an hour from now. Join us then as we head through the money bubble on down to the final table!