Controversy On Table 35 Leads Into the Break
Nivel 6 : 150/300, 25 ante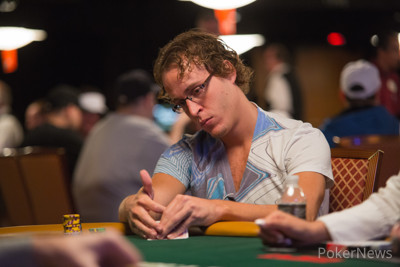 A little bit of controversy has brewed up at Table 35 in the Silver Section of the Brasilia Room, the table that includes Jason Mercier, Lee Childs and William Reynolds. The incident involves the latter of these three and another unknown player.
Reynolds lost a pot right before the dinner break, and he wasn't too happy about it. Although we don't have the exact details of the hand, the board had four hearts on it, and Reynolds' opponent showed the


for a heart flush. At first, he showed just the

before waiting a few moments to show his second card. Reynolds couldn't beat it and mucked his hand, but made sure to chime in with his thoughts.
"Congratulations, you've won the award for being the worst player I've played with all day," said Reynolds sarcastically.
At first, his opponent didn't say anything, but Reynolds followed up with a few other things that were unable to be heard. His opponent eventually snapped back and said he wasn't happy with what Reynolds was saying and that he needed to stop. The two then jawed a bit more, before Reynolds' opponent said something to the tone of, "If you want, we can take this outside on the break," while motioning to the door. By all accounts, he seemed very serious.
Reynolds seemed to laugh at the player, and jawed back a bit more. For the next couple of minutes, a few more exchanges were made, but then things got a bit more heated right when the clock rolled over into the break.
While Reynolds was stacking his chips and packing up his things in his chair, his opponent came around the table (he was seated in the two seat and Reynolds in the six seat). He started talking with a bit more fire, somewhat hovering over Reynolds. It seemed the player was challenging Reynolds to go outside, and Reynolds began mimicking talking motions with both of his hands, saying, "Keep yapping! Keep yapping!"
Eventually after a bit more jawing, the player walked away from the table and out into the hallway for break, but not without the two yelling a bit more to each other as the distance grew larger between them. Reynolds stayed back a little bit, collected his things, and then went his own way. We'll keep you posted as to any upcoming developments on this incident.