Rancor
Nivel 6 : 150/300, 0 ante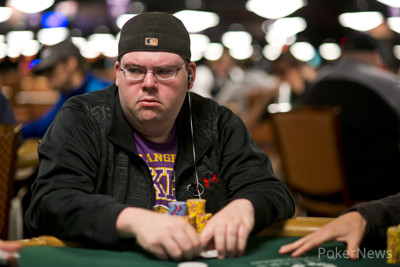 We caught up with Eric "E-Fro" Froehlich, a two-time WSOP bracelet winner who made his bones playing the fantasy card game Magic the Gathering, and despite surviving his all-in encounter, Froehlich was frowning throughout the hand.
With the flop reading

, Froehlich's last chips were already in the pot, but both his opponent and the dealer seemed to have trouble calculating the amount of a bet designed to isolate the all-in player.
"It's 4,850," Froehlich said flatly, over the protestations of the dealer who believed the amount was less. "Forty-eight fifty."
"I have no pair," his opponent announced excitedly during the subsequent showdown, apparently relishing this moment of pure gamble as he revealed the




for a gutshot straight draw.
"I do," was Froehlich's response as he rolled over the




for middle pair and the same gutterball draw.
With his king and queen outs voided by Froehlich's hand, the opponent was left to hope for a hit, and he anxiously called out "Jack!" while dealer burned and turned.
Turn:

With that, both players made identical Broadway straights, and the

on the river didn't change a thing.
With his face now a perma-frown, Froehlich watched as the dealer almost shipped the pot to his opponent, perhaps convinced by his successful call for a jack that the chips were his to take. Another player spotted the error, however, and after all of the theatrics, both players returned to the same stacks they started the hand with.
Unfortunately for E-Fro, the lack of a double in this key spot likely doomed his chances, and he was eliminated from contention shortly thereafter.