Dario Rivers Flush
Nivel 3 : 50/150, 25 ante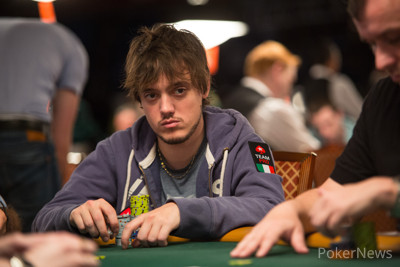 After a complete then a raise from Calvin Anderson, Dario Minieri three-bet and was called by both the active players before he bet fourth and was again called round. On fifth street Minieri bet 300 and was raised by the original completer as Anderson folded. Minieri smooth-called as we went to seventh.
Opponent:


/




/


Anderson:


/


(folded on fifth)
Minieri:


/



/

Minieri shuffled his cards for a few moments before peeking down at



. He threw out a bet of 300 and his opponent swiftly called before mucking at the sight of Minieri's flush as the Italian moves to over 15,000 in chips.