A Con and Young Ji-Z
Nivel 14 : 1,000/2,000, 300 ante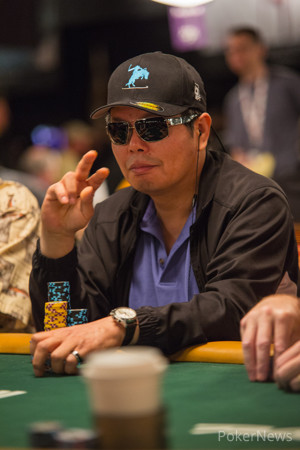 While Day 2 has not seen Young Ji as ebullient as he was yesterday, the excitable tournament veteran has still been involved in the action.
A pair have hands Ji recently played illustrate the roller coaster of emotions that defines the game of poker.
First, Ji played a heads-up pot with the board reading





, having his bets called on the flop and fourth street. On the river, Ji led out for 4,500, and his opponent looked him up, but mucked when Ji confidently rolled over the


for two pair.
Just moments after that win, Ji looked down to behold the prettiest sight in poker:

in the hole. With two limpers in the pot, Ji raised his button to 7,500, and both Stephen Lutz and the other player came along.
On the



flop, the first player checked to Lutz, who immediately moved all in. Delighted at the turn of events, Ji snap-shoved over the top, trying to isolate the at risk Lutz. That's when things became a little more interesting.
The third player in the pot also pushed his stack forward, and suddenly Ji's pocket rockets looked like a hand that had been cracked.
Showdown:
Ji:


Lutz:



Unknown Player:


Although it had appeared that one of the all-in players must have hit the flop hard, both revealed merely a single pair, and Ji was pleasantly surprised to see his aces out in front.
Turn:


River:

It was all a con for Ji, who was poised on the precipice of huge double elimination, only to see the rug pulled out from under him with a jack on the turn. With this loss, Ji will have to rebound in a hurry if he hopes to make his second consecutive deep run here at the World Series of Poker. Lutz, meanwhile, managed to triple up from way behind, and with this win he moved well above the average chip stack.