Getting to Know Ken Lind
Nivel 30 : 50,000/100,000, 10,000 ante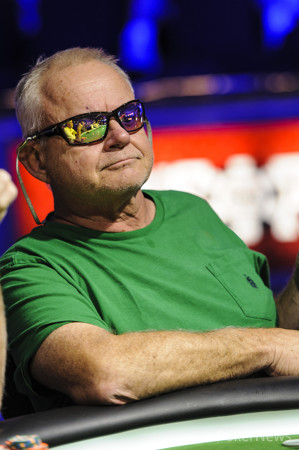 Kenneth Lind is leading this final table with more than half the chips in play. He took a few minutes during the last break to tell PokerNews a little about himself.
PokerNews: What motivated you to play this tournament?
Lind: I've been playing poker, Hold'em, for 10 or 12 years. Played a few tournaments here and there. I play every Wednesday night with a bunch of friends. And I put it on my "Bucket List." I said I want to play at the World Series before I start pushing grass up. So I spent some time thinking about it, and my wife kept saying, "Go, go, go." And I kept saying, "Well...it's a thousand dollars. That's a lot of money." I might have a couple hours of fun and then I'm sitting on my...derriere, who knows? And I guess there are people around that have more confidence in me than I have in myself. And a real good friend of mine said, "Ken, you go. Why don't you go, and I'll pay your entry fee." And I told him, "No." I kept saying "no" for months. And finally he said, "A lot of pros have somebody backing them. I'm going to back you." And I said, "OK," and that's why I'm here. It's my first WSOP. I've never been in a tournament with more than 10 tables. And here I am at the end of this tournament with 4,407 people, and I'm still in shock.
Several legends of the game were in this tournament. Johnny Chan, T. J. Cloutier, to name a few. How does it feel to outlast them?
They were both in this one? The only pro that I saw was Bill Baxter. I looked around, but I don't know which other pros were in the tournament. Chan and Cloutier...that's really something. I'm shocked. You put in shock again. We might need a defibrillator here before long.
Are you planning to play again next year
My inclination is yes, but who knows? I might not even be around next year. My whole family died at 40, and here I am at 68. For the last 28 years, it's been nothing but gravy for me.