Rocco Can Wait All F***in' Day
Nivel 12 : 600/1,200, 200 ante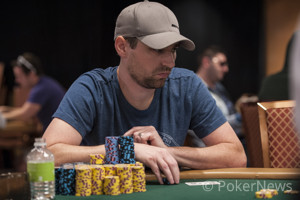 Michael Rocco and Brandon Cantu were heads up on a board of




. There was around 30,000 in the middle, and both players checked.
"King-high," Cantu announced, as he was first to table his cards.
Rocco didn't budge.
"King-high," Cantu echoed.
"Table your hand," Rocco told him.
This angered Cantu, who held his cards up but wouldn't table them.
"Come on," Daniel Negreanu piped up. "It's the rules, Brandon."
"I'll wait all f***in' day," Rocco told Cantu, who finally showed


for king-high.
Rocco showed

for a pair of aces, and scooped the pot.
Negreanu tried to tell Cantu that some of the online players don't follow the etiquette of showdowns, but Cantu was sure that Rocco had some sort of vendetta.
"He wants to embarrass me," Cantu said. "He's stomping all over my mound."
The latter was a baseball reference we believe, and at this point a floorperson had arrived.
"Let's not insult one another," he told the table, trying to calm everyone down.
Erick Lindgren looked at him deadpan. "F*** Daniel Negreanu."
Most of the table laughed, while Rocco and Cantu still seemed to be steaming a bit from their little confrontation. We'll see if the two butt heads again as we near the bubble and heads-up play.