Catching Up With Jason Koon
Nivel 19 : 3,000/6,000, 1,000 ante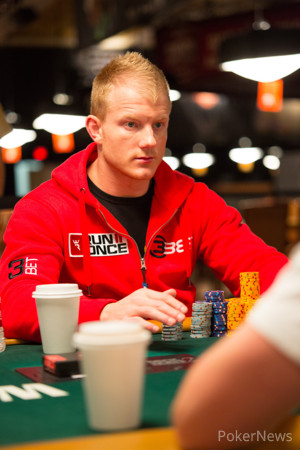 Jason Koon is in the final eight of Event #27. He'll compete against Dan Healey in the next round of heads-up play. In his first two matches today, Koon came from behind to win against Taylor Paur and then defeated Mike Watson despite starting with a substantial chip disadvantage. PokerNews caught up with Koon after he won his round of sixteen match against Watson.
PokerNews: Before the summer, you were optimistic—and pretty vocally optimistic—about your chances for success at the World Series. This is your third cash and you've had one final table. How do you feel it's been going, and how do you feel it will go moving forward?
Koon: I think it's been great. I've had to miss a bunch of events for two weddings, so I flew home, but out of the ones that I've played I felt like I played really well. I'm being very objective this year. Like today, for instance. I came in final 32. I knew I had two very tough rounds at the beginning. I knew it was unlikely that I would have a shot to win the bracelet. Less than 15%. So back in the day, I would just think I'm due, and then I would end up being bummed out and burn out halfway through the World Series 'cause I'd have all these deep runs that didn't come out the way I wanted them to. But nowadays I'm just realistic with my situation 'cause I focus on what I have control of, and if I happen to win a bracelet, so be it. And if not, I'm really happy with my progress as a person and as a poker player.
Why is this year going to be better than last year for you?
For the last four or five months I've spent an extreme amount of time getting coaching, and it's really paid off.
You're pretty well known as a fitness fanatic. How has that helped you with poker?
It helps me maintain focus. I feel like that's a big edge through the long days. And also, it's just a great outlet for stress. I think a lot of people have a bad day and they go drink or eat a bunch of hamburgers. That might be a quick fix, but it doesn't work long run. Staying in shape just keeps me happy.
How do you feel about your chances going into the next round?
I have no clue who I'm playing, but I thought it wasn't cool that he sat on the rail and watched us the entire time as we played. It's not illegal, but it's kind of unethical. It's an edge that he has over me that I wouldn't have over him. That said, all I've done for the past four and a half months is study heads-up no limit, and I feel pretty good about it.
If you win, how are you going to celebrate?
What's first place, 370K or something? It's not life-changing money or anything, but we'll definitely party. We'll get the crew together and probably hit up a pool during the day and spend a little money. Not too much money, though, I'm kind of over all that.