"No F***ing Way"
Nivel 17 : 2,000/4,000, 500 ante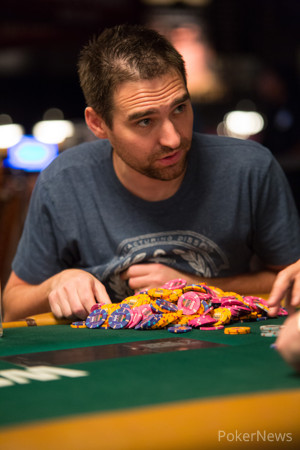 It looked as if there would be a winner for the match between Brandon Cantu and Max Steinberg, but things turned out to be a little different than they appeared.
Cantu opened the pot by raising to 10,000 on the button. Steinberg defended from the big blind.
On the



board Steinberg checked to Cantu who continued with a bet of 11,000. Steinberg thought about it briefly, then raised to 30,000. Cantu just called.
The turn was the

and that card got the fireworks started.
Steinberg led at the pot with a bet of 52,000. Cantu thought for a while before reraising to 160,000. Now it was Steinberg's turn to go into the tank. He thought a good while before putting in another raise to 275,000. Cantu went into the tank. He asked for the dealer to put in the bet to see how much it was he would have to call. It ended up being 115,000 more. Cantu grabbed the chips off his stack and put them into the pot.
The river card was the

. Steinberg grabbed all of his green T25,000 chips, coupled with a stack of pink T5,000 chips and put them in the pot, betting 330,000. Cantu asked for a count and after he found out how much it was me moved all in. Steinberg instantly called.
Cantu showed down his


for a full house. Steinberg slowly turned over his


, meaning that both players had the exact same full house.
"No f***ing way!" Cantu said after the hand.
The dealer chopped up the pot and both players took their chips back.