"We're Down to One World Champ"
Nivel 11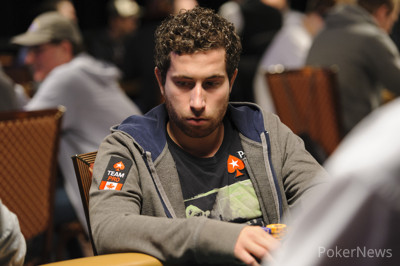 Razz
Jonathan Duhamel:


/


/

Eli Elezra:







We're not sure of the action, but we do know that 2010 World Series of Poker Main Event champ Jonathan Duhamel got his last thousand or so all in on fifth street. We caught his board, but Eli Elezra, who had called him, rearranged his cards before we got a good look.
With that said, we saw what they drew and know that Elezra won the pot with a 10-9-4-3-2 low.
"We're down to one world champ now," Elezra said after Duhamel had exited the tournament area. He then pointed to 1996 WSOP Main Event champ Huck Seed, who was seated in the eight seat. "I'm going to try to take care of him now, too!"
Well wasn't my day today, just busted the horse tourney...good news is have just enough time to register in the 1k with 15bbs #gamble
Follow @JonathanDuhamel