Event #3: $1,000 No-Limit Hold'em
Zilele: 1a
Event #3: $1,000 No-Limit Hold'em
Ziua 1a terminat
Nivel 8 : 200/400, 50 ante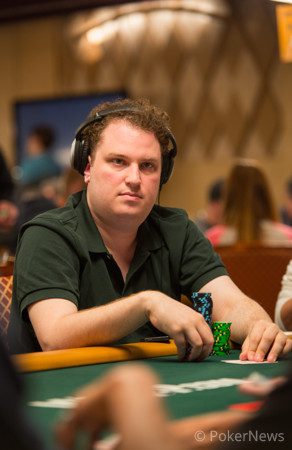 The action got started bright and early today, at least for your average poker player, with Event #3, the $1,000 Re-Entry starting at 11 AM local time. After eight levels of play, we have whittled 1828 players all the way down to 321 players, and at the end of the night, the 1a chip leader is none other then high stakes regular Scott Seiver. He bagged up a big stack of 65,000 in chips, and will be in prime position heading into tomorrow. Following Seiver closely is Eric Hicks, with 63,125.
The action was fast and furious today, with plenty of chips flying early. You could make quite an impressive final table lineup with the players who bowed out early today, including Jason Mercier, Joe Cada, Jonathan Duhamel, David "ODB" Baker, and David Williams.
Some other players who hung around for most of the day before ultimately going bust were Jake Cody, Matt Salsberg, and Lauren Kling. We also lost Phil Ivey in the penultimate level of the day, when his top pair couldn't fade his opponent's pair and flush draw combo.
Despite losing all these players, we still have a ton of notables who will be moving on to Day 2. Some of the players on that list are Amanda Baker (47,025), Amanda Musumeci (36,500), Jacob Balsiger, (36,500), Justin Young (34,400), Nam Le (31,500), Carlos Mortenson (18,000), and Michael Phelps (8,825).
The action in Day 1a is done for the night, but play will continue in Day 1b into the late hours of the night. The survivors from that flight will join those who survived today, and from there, they will play another full day of poker tomorrow. As always, Pokernews.com will have all the live coverage for you, so be sure to check out the Day 1b coverage, and goodnight from this section of the Rio!
Nivel 8 : 200/400, 50 ante
The floor has just announced that we will be playing three more hands before bagging and tagging for the night.
Nivel 8 : 200/400, 50 ante
As the night winds down, some of the big stacks are starting to separate themselves from the pack. By our estimations right now, Scott Seiver has the chip lead.
Nivel 8 : 200/400, 50 ante
We didn't catch the exact betting action, but we know that Justin Young raised it up in early position. His opponent two spots over three bet it to 1,800, and another player shoved all in for his last 13,000. Action got back around to Young, and he didn't take too long to shove all in. The original three better regrettably folded, and the players tabled their cards.
Young:



Opponent:


Young was in great shape for the knockout, and to show off, he flopped a set, as it came down


. No miracles came for his opponent, as the board completed

and

.
Nivel 8 : 200/400, 50 ante
We couldn't have had more perfect timing, as we saw that Phil Ivey was in the middle of a huge pot on the flop as we were walking by the table. Here's what we saw. The flop read


, and after his opponent had bet 2,000, Ivey raised it to 7,000. His opponent moved all in, and after a few moments of thought, Ivey said "alright I call."
Ivey:



Opponent:


Even though Ivey had the best hand at the time, his opponent actually had a 53% to 47% edge in the hand, according to our Pokernews odds calculator. Sure enough, the

on the turn sealed Ivey's fate, and the

hit the river completing the board.
Ivey's opponent had him slightly covered, and Ivey wished everyone good luck, and quickly headed for the exits. He will have the option to come back for Day 1b.
Jucător
Fise
Progres

Phil Ivey

Eliminat
Nivel: 8
Blinduri: 200/400
Ante: 50
Nivel 7 : 150/300, 25 ante
Matt Stout was recently moved from the bronze section to the white section, and he recognized the player that was on his immediate left. Of the 400 some odd players still alive in this event, it's probably the worst player he could have seen. We'll let him tell you himself who he's rubbing elbows with.
Table change. Seems pretty reasonable to have Phil Ivey on my left with lots of chips in an insanely soft $1k NL. #ANottttttt
Follow @MattStoutPoker
Nivel 7 : 150/300, 25 ante
Here are updated counts for most of the notables still alive in Day 1a.
Jucător
Fise
Progres

Amanda Baker

44,000

-6,000

Scott Seiver

40,000

4,000

Tyler Phillips

27,000

10,000

Ari Engel

26,000

20,000

Steve Dannenmann

23,000

7,000

Theo Tran

23,000

17,550

Kathy Liebert

19,500

6,500

Phil Ivey

19,000

15,800

Amanda Musumeci

17,500

7,925

Michael Phelps

17,500

9,400

Ryan Lenaghan

17,000

-3,000

Justin Young

17,000

14,000

Nam Le

17,000

17,000

Carlos Mortenson

16,000

16,000

Mclean Karr

14,000

14,000

Xuan Liu

11,200

7,800

Christian Harder

10,000

5,900

Bernard Lee

9,500

-3,000

Bruce Buffer

9,000

-500

Victor Ramdin

9,000

2,800

Ashkan Razavi

9,000

3,200

Christina Lindley

7,000

-1,500

AP Phahurat

6,200

2,500

Lauren Kling

4,400

-1,900

Jake Cody

3,800

-1,450
Nivel 7 : 150/300, 25 ante
We saw a few more players who took their seats over in Day 1b, meaning that they were eliminated from this first flight of the day.