Event #3: $1,000 No-Limit Hold'em
Zilele: 2
Event #3: $1,000 No-Limit Hold'em
Ziua 2 terminat
Nivel 18 : 3,000/6,000, 500 ante
| Table | Seat | Player | Chips |
| --- | --- | --- | --- |
| 446 | 1 | Nam Le | 361,000 |
| 446 | 2 | --empty-- | -- |
| 446 | 3 | Jia Liu | 351,000 |
| 446 | 4 | Andrii Tolsteneko | 116,000 |
| 446 | 5 | Jonathan Tamayo | 109,000 |
| 446 | 6 | Ryan Olisar | 815,000 |
| 446 | 7 | Darren Rabinowitz | 181,000 |
| 446 | 8 | Charles Sylvestre | 787,000 |
| 446 | 9 | Seth Baker | 175,000 |
| | | | |
| 447 | 1 | Ruben Ybarra | 155,000 |
| 447 | 2 | Joshua Weiss | 95,000 |
| 447 | 3 | Makoto Yoshimichi | 107,000 |
| 447 | 4 | --empty-- | -- |
| 447 | 5 | David Olmsted | 278,000 |
| 447 | 6 | Jeffrey Borneman | 153,000 |
| 447 | 7 | James Matteucci | 383,000 |
| 447 | 8 | Mark Wilds | 58,000 |
| 447 | 9 | William Guerrero | 185,000 |
| | | | |
| 448 | 1 | --empty-- | -- |
| 448 | 2 | Michael Cooper | 187,000 |
| 448 | 3 | Cole Jackson | 93,000 |
| 448 | 4 | Dermot Blain | 234,000 |
| 448 | 5 | Douglas Stewart | 121,000 |
| 448 | 6 | Seth Berger | 994,000 |
| 448 | 7 | [Removed:14] | 141,000 |
| 448 | 8 | Travis Wiedower | 354,000 |
| 448 | 9 | Gregory Schaefer | 77,000 |
| | | | |
| 452 | 1 | Dmitrii Valouev | 182,000 |
| 452 | 2 | Garrick Lau | 346,000 |
| 452 | 3 | Guy Dunlap | 146,000 |
| 452 | 4 | --empty-- | -- |
| 452 | 5 | --empty-- | -- |
| 452 | 6 | Derek Buonano | 104,000 |
| 452 | 7 | Jeffrey Fagan | 113,000 |
| 452 | 8 | Ping Liu | 475,000 |
| 452 | 9 | Vladimir Geshkenbein | 400,000 |
| | | | |
| 453 | 1 | Oliver Greer | 120,000 |
| 453 | 2 | Scott Seiver | 163,000 |
| 453 | 3 | Sunny Chattha | 141,000 |
| 453 | 4 | Aaron Steury | 81,000 |
| 453 | 5 | Ryan Tepen | 313,000 |
| 453 | 6 | --empty-- | -- |
| 453 | 7 | --empty-- | -- |
| 453 | 8 | Jonathan [Removed:250] | 249,000 |
| 453 | 9 | Binh Ta | 165,000 |
Nivel 18 : 3,000/6,000, 500 ante
Jucător
Fise
Progres

Seth Berger

994,000

Ryan Olisar

815,000

Charles Sylvestre

787,000

Ping Liu

475,000

Vladimir Geshkenbein

400,000

James Matteucci

383,000

Nam Le

361,000

Travis Wiedower

354,000

Jia Liu

351,000

Garrick Lau

346,000

Ryan Tepen

313,000

David Olmsted

278,000

Jonathan Azoulay

249,000

Dermot Blain

234,000

Michael Cooper

187,000

William Guerrero

185,000

Dmitrii Valouev

182,000

Darren Rabinowitz

181,000

Seth Baker

175,000

Binh Ta

165,000

Scott Seiver

163,000

Ruben Ybarra

155,000

Jeff Borneman

153,000

Guy Dunlap

146,000

Sunny Chattha

141,000
Nivel 18 : 3,000/6,000, 500 ante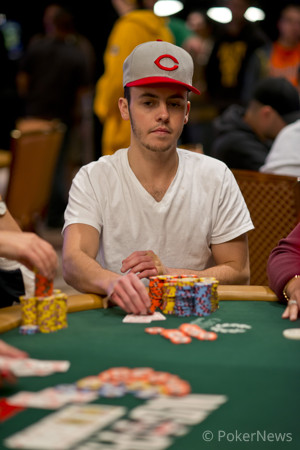 Last year in Event 9: $1,500 No-Limit Hold'em Re-Entry, Ashkan Razavi took home the bracelet and $781,398. Today we saw three of the final tablists from that event make a run at the final table for the second year in a row. Ashkan Razavi and Amanda Musumeci both finished today in the top 200 players and netted a small payday, but in the end it was another one of the final tablists, Ryan Olisar, who lasted the longest and finished with 815,000 chips. Seth Berger managed to bag up the most chips with 994,000. Berger and Olisar were closely trailed by Charle Sylvestre who finished in third with 787,000 chips.
The day began with 543 players of the original 3,164 field. On top were Thiago Nishijima, who failed to make the money, and Jerry Payne who finished in 215th place, grabbing him a $2,335 payday. Early in the day, the money bubble was burst but as soon as hand for hand play was over the players began dropping like flies. Also busting today were pros such as Adam Levy, Burt Boutin, Amanda Baker, Ryan Laplante, Leo Wolpert, and Eric Baldwin, each of whom netted a small payday.
Ryan Olisar spent most of the day up and down, hovering around the chip average, but in the second to last level of the night, Olisar finally found a spot to pick up speed. In the hand one player was all in for about 70,000 with


, another for about 100,000 with


, and Olisar had them both in bad shape with


. The board ran out a harmless




, vaulting Olisar into the chip lead at the time.
Right on Olisar's tail was Charles Sylvestre who was in the chip lead for most of the day. We saw him pick up a huge pot late in the night that pushed him into the chip lead before Olisar took it over. In the huge hand A.J. Thompson opened for 8,000 and received calls from the small blind and Charles Sylvestre, who was in the big. Two checks on the



flop saw Thompson bet 17,500, the small blind fold and Sylvestre wake up with a check-raise to 50,000. Thompson responded with a three-bet to 125,000, Sylvestre moved all in with what turned out to be the

and Thompson called off his stack holding the


.
Neither the

turn nor

river helped Thompson and he was eliminated from the tournament while Sylvestre raked in a pot of approximately 600,000.
But it was Seth Berger who finished up top. He went on a real heater in the last few levels of the night culminating with his elimination of Kenny Nguyen with
against Nguyen's

.
Tomorrow Berger will return as the chip leader heading the final 38 players. They will return at 1:00 P.M. and attempt to play to a winner. We will begin at level 19 with the blinds at 4000/8000 and a 1000 chip ante. Make sure you tune in to PokerNews.com for up to the minute updates as we pave our way to a champion.
Nivel 18 : 3,000/6,000, 500 ante
Nivel 18 : 3,000/6,000, 500 ante
The players will bag and tag after each table deals four more hands.
Nivel 18 : 3,000/6,000, 500 ante
Garrick Lau is the boss apparently. At Scott Seiver and Vladimir Geshkenbein's table, a long running joke has been Geshkenbein telling everyone at the table periodically that they are "the boss."
In a recent hand, after a preflop raise, Lau and Geshkenbein were heads up in a pot. Lau bet 30,000 on the flop of



and was called by Geshkenbein.
On the

turn, Lau bet out 60,000 but this time, Geshkenbein folded.
"I'm the boss," Lau proclaimed after the hand, tossing over his


. With that hand, Lau moved up the chip counts with 388,500 chips.
Nivel 18 : 3,000/6,000, 500 ante
Ravi Raghavan recently busted in 46th place, earning $7,660.
Nivel 18 : 3,000/6,000, 500 ante
Jucător
Fise
Progres

Ryan Olisar

770,000

-30,000

Charles Sylvestre

570,000

-30,000

Seth Berger

515,000

155,000

Nam Le

395,000

175,000

Vladimir Geshkenbein

380,000

-30,000

Kenny Nguyen

335,000

15,000

Jia Liu

330,000

50,000

Ryan Tepen

200,000

-8,500

Dermot Blain

160,000

Ravi Raghavan

145,000

45,000

Scott Seiver

134,000

-16,000

Michael Cooper

120,000

31,000

Jonathan Tamayo

120,000

-60,000

Aaron Steury

95,000

-11,000
Nivel: 18
Blinduri: 3,000/6,000
Ante: 500