Event #31: $1,500 Pot-Limit Omaha Hi-low 8-or-Better
Zilele: 1
Event #31: $1,500 Pot-Limit Omaha Hi-low 8-or-Better
Ziua 1 terminat
Nivel 10 : 500/1,000, 0 ante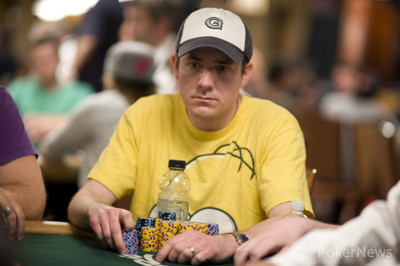 It's not very often that the pros get excited for a $1,500 buy in event, but today's event was an exception, as everyone came out for Event #31 $1,500 Pot-Limit Omaha Eight-or-Better. After ten levels of split pots and scoops, 936 players have been whittled down to just 129. The player who bagged the most chips at the end of the night was Eric Rodawig, who amassed an impressive stack of 154,800. Rodawig took the chip lead late in the night after winning a giant hand where he rivered a full house. Not far behind are Joao Simao (132,100), and Leif Force (118,200) .
In a field of nearly 1,000 entrants, we were bound to lose a ton of familiar faces, and that's exactly what ended up happening. Some of the players who were not part of the final 129 were Joe Kuether, Daniel Negreanu, Phil Ivey, Allen Kessler, Greg Raymer, John Monnette, Daniel Alaei, Phil Hellmuth, Joseph Cheong, Scotty Nguyen, both David Bakers, and Dan Kelly, who suffered a rare Day 1 bustout at this year's WSOP.
Despite losing this laundry list of top notch pros, and many others not listed, we still have a stacked field returning tomorrow, including Allan Le (69,700), Yuval Bronshtein (60,800), Barry Greenstein (53,300), Josh Pollock (52,100), David Sands (48,600), Jason Mercier (37,100), Jonathan Little (30,100), Mike Matusow (25,900), and Owais Ahmed (17,600).
129 players will be returning tomorrow, but only 117 of them will make the money. Play will resume at 1 PM in the Amazon Room with the hopes of playing down to a final table. If the final table isn't reached, play will be stopped after ten levels. We will be here to bring you all the action, so make sure you come back tomorrow! Until then, good night!
Nivel 10 : 500/1,000, 0 ante
Jucător
Fise
Progres

Eric Rodawig

154,800

Joao Simao

132,100

Leif Force

118,200

8,200

Kirill Gerasimov

88,400

12,400

Matt Giannetti

77,200

Marco Johnson

76,700

Chad Layne

74,700

Sonu Sharma

73,300

Joseph Couden

72,900

Allan Le

69,700

21,700

Allen Cunningham

68,200

45,200

Loren Klein

66,800

Daniel Strelitz

63,700

34,700

Yuval Bronshtein

60,800

15,800

Jeffrey Landherr

57,600

Grant Sbrocco

57,300

Grzegorz Derkowski

56,000

Noomis Jones

54,200

Perry Green

53,600

1,600

Barry Greenstein

53,300

1,300

Ryan Lenaghan

53,000

42,000

Brian Hacker

52,400

Josh Pollock

52,100

-9,900

David Sands

48,600

14,600

Roland Israelashvili

47,700
Nivel 10 : 500/1,000, 0 ante
The floor has announced that we will be playing three more hands tonight.
Nivel 10 : 500/1,000, 0 ante
As the Eric Rodawig hand was going on, there was another monster pot involving Leif Force. The finished board was





, and we know that Force and his opponent got all the money in on the flop. Force had




, and he ended up collecting 3/4 the pot, as his opponent showed



.
After the chips were stacked up, we saw that Force was up to 110,000 after taking a majority of that huge pot.
Nivel 10 : 500/1,000, 0 ante
Wow. There was a group of spectators already surrounding Eric Rodawig's table when we arrived, and here's what we saw. There was already almost 30,000 in the middle on a flop of



. One player was all in for just 100 chips, and another had bet pot of 31,800, which was for all but 1,000 of his chips. It was on Rodawig, who was deep in the tank. He cut out the chips to make the call, and after another minute of thought or so, stuck it in, causing table mate Mike Matusow to go "wow you got some balls kid!"
Rodawig:





Opponent 1:




Opponent 2:




For the moment, Rodawig's bottom two pair was good, but that all changed when the

hit the turn. It looked all but done for Rodawig, until the

hit the river, giving Rodawig a winning full house. Upon seeing the card, Rodawig yelled out a "yes" that could probably have been heard by people down the hall in the amazon room. Once all the chips were stacked up, we pegged Rodawig's now giant stack at 150,000.
Nivel 10 : 500/1,000, 0 ante
We only caught the aftermath of the hand, but we saw that Leif Force just busted Erick Lindgren in a hand where both players held mostly high cards. Lindgren had a boatload of chips earlier today, but he slowly lost them throughout the day, and busted just before the day ended. Meanwhile, Force is now up to over 60,000 after winning that hand.
Nivel: 10
Blinduri: 500/1,000
Ante: 0
Nivel 9 : 400/800, 0 ante
Nivel 9 : 400/800, 0 ante
189 players are remaining, and 117 of them will make the money. According to the clock, there is 80 minutes left in play. Will we reach the money tonight? We will find out shortly.