Interview: Barry Greenstein
Nivel 25 : 20,000/40,000, 0 ante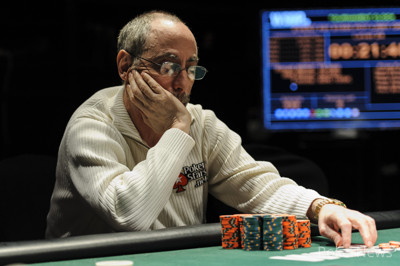 Barry Greenstein is the chip leader here in the $1,500 Pot-Limit Omaha Hi-Low event and is attempting to win his fourth career World Series of Poker bracelet-- the first since 2008. During the most recent break, we had a chance to talk with Greenstein about his last bracelet win, Open-Face Chinese Poker, and more.
Your last bracelet was in 2008. What do you think has kept you from winning another since?
Not playing well enough and not running well enough.
Do you think that the younger generation of players is making the games tougher?
There definitely are a lot more young players but the fields are also definitely larger. As the years go on you have to beat 1,000 or 2,000 people in some events.
Last year you final tabled in two events, both of which were in Stud. Which mixed game do you think you excel at?
The Pot-Limit Omaha events I think I have the best record in and seem to always make a deep run in 8-or-Better. Not necessarily because I play it that well but I think the other people don't play it that well; I think that helps.
How do you feel about the WSOP bringing back the $10K championships or adding more mixed-games as events?
I think they should add more mixed-games when the online sites are back in the states because a lot of money trickles down from those sites. People satellite in and there is always an infusion of money when we have online poker in the United States. Once that got pulled out and the regular economy went down people didn't have a lot of money so they cut the $10K events down to $5K events.
Will you play the OFC event of Carnavale Poker?
I probably won't play it. I would have played it for sure if it were a bracelet event. The only way I play it is if I'm not in a cash game and the timing is right and I happen to wake up at the right time. I won't rush out to play it. The WSOP probably would have tripled the entrance if they made it a bracelet event.