Marafioti Flips, Then Flips Out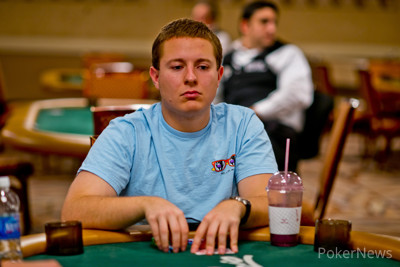 The loudest celebration of the day, aside from that let loose by the Miami Heat bettors in the house this evening, erupted from Matt Marafioti's table, after the flashy young pro spiked a king on the river to survive.
"Yes!!," he screamed, knocking over his chair as he did so. "That's what he gets for calling my 40 big blind shove with sixes!"
Apparently Brian Hastings called Marafioti's all-in bet before the flop with the best hand. His

was a slight favorite against Marafioti's

through the turn on the




board, but the

on the river saved Marafioti, sending him into a frenzy.
"Yeah, sixes are good there," he chided a smiling Hastings. "I've always got the fives there when I shove for 40 bigs."
"I was ahead when I called," reminded Hastings, still smiling despite smarting from the loss. "I was ahead on the flop and fourth street too."