What's a Keg Stand?
Nivel 4 : 200/400, 50 ante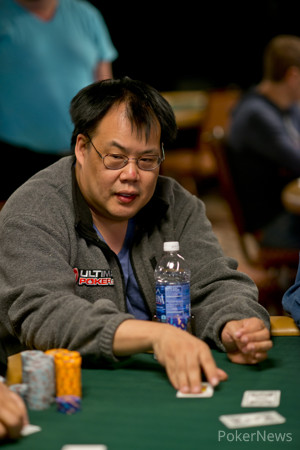 Bill Chen is on the uptick here in Event #33. We just saw him take a relatively big pot here in level three, putting him close to the two-times starting stack mark.
With a board of


/


Chen bet into his opponent who called him with


/




.
Both players checked on the face down seventh street.
"Nine, eight, six, three, ace," Chen said announcing his hand showing the


under.
His opponent showed


for the losing jack low and Chen scooped the pot.
Meanwhile at the table Ben Yu and Shannon Shorr are having a good time probing Chen about his college life and high school years.
"I believe that you haven't done a keg stand before, but I don't buy that you don't know what one is," Yu said to Chen.
"I was on the badminton team," Chen explained.
We'll keep you updated on anymore interesting tidbits and hands from one of the more lively tables in the room.