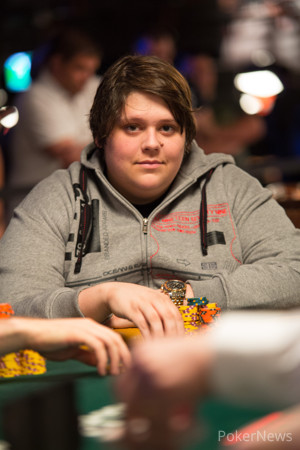 At just 22-years old, Canadian pro Jason Duval is surely making his name known on the live tournament circuit. Now fourth in chips at this final table, Duval is looking to earn his second World Series of Poker bracelet in just a few days.
Duval doubled his chip stack to 618,000 right before heading off for a 60-minute dinner break to move him closer to chip leader Michael Gathy.
Before Duval had a chance to scatter of for dinner we snagged him for a quick conversation about his hot streak.
You just won your first WSOP bracelet a few days ago. How do you feel about potentially winning another one?
It would be really great. It would be two in a row and it would just make me extremely happy. It was sick to win the first one so winning a second would just be insane. When I play tournaments the goal, of course, is to always try to win and so simply said, I will be really, really happy to win again.
Your live tournament experience is limited, having only cashed in your first event just a year ago. Do you think this puts you at any kind of disadvantage?
I don't think my experience is limited in comparison to the other players. I have played in a lot of European Poker Tour events and World Poker Tour events. If you look at the overall picture, maybe because I'm only 22-years-old, but I play a lot online and a lot of live cash games.
How does online poker compare to live tournaments for you?
I prefer live poker because it is easier with better fields. I think you can also have an edge in live events because you can pick up on tells, and it is much more intuitive.