Corning Corners Maryska, Forces Fold

Nivel 23 : 10,000/20,000, 0 ante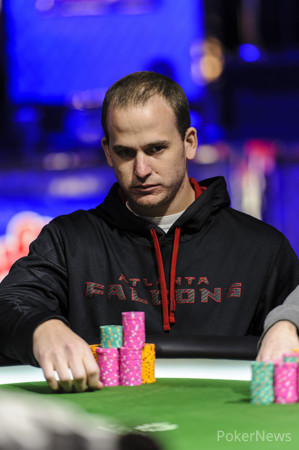 Hand #35: Jeff Madsen raised to 44,000 from the cutoff seat and both blinds — Danny Hannawa and Scott Clements — called. The flop came


. Hannawa led with a bet 132,000, and both Clements and Madsen folded.
Hand #36: Clements called from the small blind, Douglas Corning raised, and Clements called. The flop came


. Clements checked, and when Corning bet 75,000, Clements folded.
Hand #37: Clements limped from the button and Jeff Madsen checked from the big blind. The flop came



. Madsen checked, and Clements bet 35,000, good enough to win as Madsen folded.
Hand #38: Michal Maryska limped from UTG, then Corning raised to 60,000 from the button, forcing out the blinds. Maryska called the raise, and the flop came



. Maryska checked, and Corning bet 90,000. Maryska thought a short while, then called. The
fell on fourth street, and both checked.
The river was the

, pairing the board. Maryska pushed out a bet of 103,000, and Corning waited about a minute before raising to 270,000 total. That sent Maryska into the tank for a couple of minutes before he folded, and Corning showed his




for kings and queens.