Limit Hold'em Bracelet Winner Meinders Among the Field
Nivel 1 : 200/400, 0 ante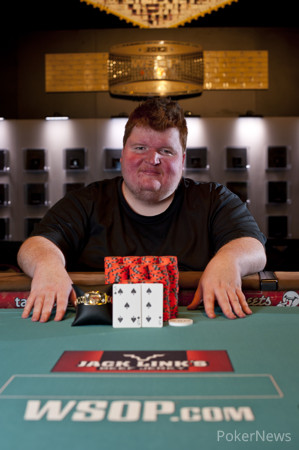 While perusing the tournament area early on, we spotted a bracelet winner from last year, Brian Meinders, seated among the field. Meinders should be one to watch throughout this event as his single bracelet is in Limit Hold'em.
One year ago at the 2012 WSOP, Meinders was able to conquer a field of 365 runners to win Event #25, $1,500 Limit Hold'em Shootout. In theory, it sounds like one of the more easy bracelets to win, as Meinders merely had to defeat three tables in order to find the gold on his wrist. However, this field was stacked to the brim with poker's elite and winning three-straight tables against a stacked field was no small task. Meinder's final table included the likes of Chris Vitch, Darin Thomas, Brock Parker, and Victor Ramdin. Despite these obstacles, Meinders was able to use his limit-hold'em know-how to rise above and defeat the field.
Will Meinders be able to do the same today? Only time will tell, but as a bracelet holder in this game, he is certainly one to watch as the tournament progresses.