Catching Up with Ronnie Bardah On Break; Limit Hold'em Beat Boxing, and Team Ivey
Nivel 24 : 20,000/40,000, 0 ante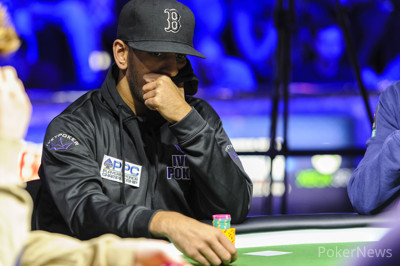 The final table of Event No. 37 $5,000 Limit Hold'em of the World Series of Poker has been cut down to the last six players and amongst that group is Team Ivey pro and World Series of Poker gold bracelet winner Ronnie Bardah, who is sitting near the top of the leaderboard with around half a million in chips.
During the last break, PokerNews' Pamela Maldonado met up with Bardah to ask him about his recruitment with Ivey Poker, his skills as a beat boxer, and the future of limit hold'em.
Is there more skill in limit hold'em or no-limit hold'em?
I think it takes more skill to make a living playing limit hold'em cash games. It's all about making sick folds and sick value bets. I've been asked this question before, and it's hard to answer because both are really tough games. Although limit hold'em requires more skill to make a living, I do think no-limit hold'em requires more skill overall. You get put to the test so much more [in no-limit hold'em], and there are so many different styles of play that make you have to be aware of so many more things.
What future do you see for limit hold'em for WSOP events and as cash games?
Well, this event had two entries more than last year. The WSOP got rid of three of the six limit tournaments, but it should keep the championship event, the six-max, and the $1,500 so everyone could play. It should also bring back the limit hold'em shootout. It's a great event, attracts a great crowd, and is great for the game of limit hold'em.
I don't think cash games are necessarily fading. Bellagio, Foxwoods and Borgata still spread limit games. There are also games in Minnesota and Denver. Commerce in L.A. is still huge in terms of spreading limit games daily. They have $40/$80 games running all day, everyday. There are a lot of young kids learning the game, and I see a lot of the younger generation playing more often. Generally, the demographic of limit hold'em is 40 years and older, but with that said, I don't see the game dying anytime soon.
As a Team Ivey Pro, what will you be specializing in as a coach?
I'm not sure yet, but I presume it will be limit hold'em. The site has yet to launch because we're still in the first few steps of jumpstarting. Hopefully it gets up and running pretty soon, but there is no date as of yet.
Why do you think you were chosen to represent Ivey Poker?
I think I am different in terms of marketability. I've been playing poker for a decade and have a WSOP bracelet, and I've been good to everyone. There are a lot of people in the poker world that do rotten things, and I'm not one those players. I have a heart, I believe in karma, and I believe in being a good person both on the tables and off the tables. I'm decent looking, I think, for the poker world at least, and besides Phil Ivey, I'm the only brown person on the roster; everyone else is white. Maybe that had something to do with them choosing me. They needed to add color to the mix (laughs).
Three years ago, you went on PokerNews and demonstrated your beat boxing skills. Do you still beat box frequently?
I've been doing it since I was a kid. I don't do it as much as I used to because I've been really focused on poker. Pretty much, though, I'll beat box at anytime, while I'm walking with my headphones or at the most random times. It's so much a part of who I am that I don't even recognize when I do it anymore. Some people hum or whistle, I beat box.