You Gotta Know When to Fold 'Em
Nivel 4 : 100/200, 0 ante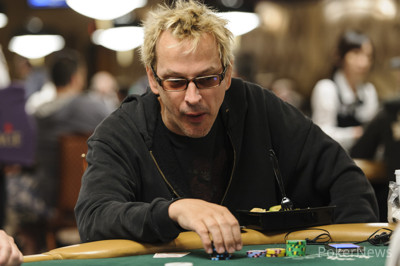 It has often been said that the main skill separating amateur players from professionals is the ability to fold. With the average tournament consisting of hundreds and hundreds of unplayable hands, bad flops, and tough turns, knowing when and why to lay a hand down is a crucial component of long term success. While folding may not be exciting, exercising the patience to wait for a better situation, rather than impulsively pushing the chips forward, is what propels the same professionals to the final table every summer.
We witnessed Phil Laak demonstrate this fact recently, after "The Unabomber" opened to 375 from the button. When his opponent moved all in for about 12,000, effectively putting Laak all in if he called, the savvy tournament veteran assessed the situation soberly.
"It could be a race," he said aloud, wondering if he was in the classic pair vs. overcards situation. "This might be what we call a race."
Rather than moving his last 3,600 into the middle in a marginal spot, Laak found the fold button and slid his cards toward the dealer. If Laak happens to make a run here today, he may look back at this fold as a key moment in the tournament. And if he happens to be felted soon, he might just wish he made his stand here. Such is life.
Meanwhile, at the next table over, we spotted Jason Somerville in a similar spot, faced with a large bet of 1,200 on the





board. Somerville had checked to his opponent, and after seeing the size of the other player's wager, the experienced pro tossed his cards into the muck.