Nick Schwarmann Cannot be Contained
Nivel 9 : 300/600, 75 ante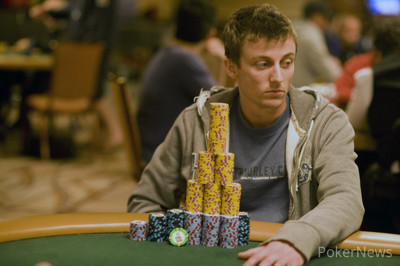 Minutes after eliminating Jason Somerville to move above 100,000 chips on the day, Nick Schwarmann is quickly making his way towards a 200,000 stack.
We saw yet another player pushing their entire stack forward, and Schwarmann eagerly adding those towers to his impressive castle, and with a quick look at the cards it was apparent why.
Schwarmann had the


tabled in front of him, and the board read





. Schwarmann had flopped an inside straight flush draw, and while he bricked the diamonds, the queen on the river gave him the nuts. His opponent got it in with just a jack, and Scwharmann felted him with the king-high straight.
On the very next deal, with Schwarmann still stacking his winnings, he opened for 1,200 from the button, with one player calling. On the



flop, his opponent bet out for 5,100, and Schwarmann quickly called. Both players checked the turn (

) and river (
), and the two showed down.
"Hope you don't have sevens," said Schwarmann, while tabling his
for middle pair. The other player could only grin in acknowledgement, and his cards went into the muck.
With these two pots, Schwarmann pushed above the 150,000 mark, and he seems to be dragging pots on every other deal.