Beware the Russian Winter
Nivel 10 : 400/800, 100 ante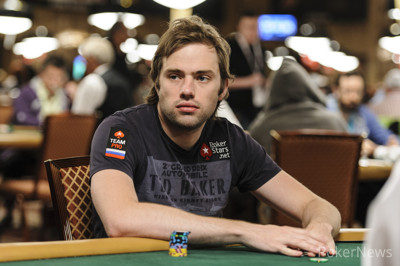 As a member of the original November Nine, Russian pro Ivan Demidov is no stranger to the WSOP stage, but on a recent occasion he resembled a rank amateur... at least to the naked eye.
We caught the action on the river, with a board of





lying between Demidov and Mike Degilio. The native of Moscow had the last of his stack neatly divided and pushed forward, for an all-in bet of about 24,000. Degilio was seated directly to Demidov's right, and he stared intensely for over three minutes, searching for a read on the impassive Russian.
That's when Demidov's arm began to shake, the motion imperceptible initially but gradually developing into a full fledged shiver. Degilio noticed the trembling and shot Demidov a curious look, no doubt wondering why a man who had once braved the Main Event final table would be so physically affected by this relatively minor moment.
"I didn't want to call," he said to Demidov. "But then you started shaking like that."
Demidov's face remained an inscrutable mask, and for those observing the scene thoughts of an epic Hollywood began to creep in, but Demidov's arm, and then his entire chest, began to shudder.
Finally, the opponent announced a call, and Demidov quickly rolled over his


for the second nut flush. The other player winced when he saw the bad news, and Demidov began dragging the large pot his way.
His tablemates asked Demidov why he was shaking throughout the hand, and he coolly provided his answer.
"The cold," he said quietly, "I know I'm shaking, but... just cold."
"You're Russian right?," quipped John Eames from across the table. "You're supposed to have cold blood."