Stephen Chidwick Flops Hard, Finds a Bluffer
Nivel 12 : 600/1,200, 200 ante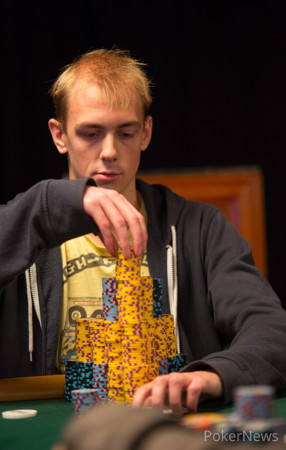 Moments after claiming Trevor Pope's entire stack on a virtual freeroll, Stephen Chidwick turned the trick again, felting an opponent who was drawing dead after a ridiculous raising war on the flop.
The drama began with the flop showing



, and Chidwick having checked to the preflop raiser. His opponent obliged with a c-bet of 3,300, and Chidwick pumped it up to 7,700. The other player paused for over a minute before cutting out a raise, four-betting to 16,300. Chidwick was undeterred by this aggression, however, and he hoisted a single stack of 20 yellow T1000 tournament chips forward for a five-bet to 27,500.
Chidwick's move sent the opponent into the tank, and he waited for more than two minutes before calmly moving his entire stack of 55,000 or so chips forward.
Chidwick snap-called and rolled over the


, hoping the other player would not show up with the dreaded
. Instead, the all-in player sheepishly turned over his

for pure air. He had been on a stone cold bluff the entire time, raising preflop and barreling hard with eight-high, but ultimately running into a hand that had flopped perfect.
On the

turn, the all-in bluffer picked up four outs to the wheel straight, but fortune did not favor the bold on this day, and the

river ended his tournament.
Chidwick, meanwhile, catapulted to over 370,000 with the win, giving him the chip lead by a wide margin with more than four times the average stack.