Event #38: $2,500 No-Limit Hold'em (Four Handed)
Zilele: 2
Nivel: 21
Blinduri: 5,000/10,000
Ante: 2,000
Event #38: $2,500 No-Limit Hold'em (Four Handed)
Ziua 2 terminat

Nivel 20 : 4,000/8,000, 1,000 ante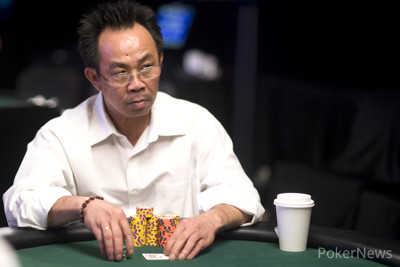 David Pham is the man to catch in the $2,500 No Limit Hold'em (Four-Handed) event, which is down to only eight players. Pham bagged up 911,000 chips, an impressive total at the best of times, never mind when one considers he was on the receiving end of plenty of bad beats during the second day's play.
One such hand saw him get his chips into the middle with


on an


board against the


of Jamie Rosen, only for the river to come

to improve Rosen to a bigger full house.
Later in the day, Pham would again fall victim to Rosen and again it would be ace-jack that was the hand in question. Rosen five-bet shoved with

and Pham snap-called with a pair of aces and looked set to exact revenge on Rosen for their earlier confrontation. That was until Rosen flopped two jacks to crack Pham's aces! Rosen would ultimately finish in 15th place, while Pham, as we know, ended as the overnight chip leader.
Pham already has one final table appearance at this year's World Series of Poker, a fourth place finish in the $3,000 No Limit Hold'em Six-Handed event, and is looking to make it final table number two in this short-handed event. With over $8,750,000 in live tournament winnings, Pham is one of the most experienced tournament players in the world and only one player in the final eight of this competition, John Juanda, surpasses his winnings.
Juanda will start the day fifth in chips with a stack of 466,000. The five-time WSOP bracelet winner has more than $15,000,000 in live tournament winnings and is looking to add an additional $309,071 to his already impressive total. Only seven men stand between Juanda and bracelet number six.
Along with the aforementioned Pham and Juanda, the PokerNews Live Reporting team will be joined by Nick Schwarmann, Jared Jaffee, Daniel Park, Jonathan D'Souza, Justin Oliver and Mike DeGilio on Sunday afternoon as Event #38 is played to conclusion.
Which of these gentlemen will walk away with the top prize and a WSOP bracelet? Tune back into PokerNews.com from 1:00pm local time to find out.

Nivel 20 : 4,000/8,000, 1,000 ante
With eight players returning for Day 3 tomorrow afternoon, here is where they stand on the totem pole.
Jucător
Fise
Progres

David Pham

911,000

81,000

Nick Schwarmann

789,000

-311,000

Jared Jaffee

617,000

3,000

Daniel Park

480,000

170,000

John Juanda

466,000

16,000

Jonathan D'Souza

446,000

-169,000

Justin Oliver

300,000

140,000

Mike DeGilio

253,000

33,000

Nivel 20 : 4,000/8,000, 1,000 ante
David "The Dragon" Pham has been all in more times than we care to remember today, winning some and losing just as many. Moments ago, Pham was all in with


and found a caller in the shape of Mike DeGilio and his


.
DeGilio's jacks stayed good on the



flop, but fell way behind on the
turn. The

left Pham's pair of aces as the best hand and Pham climbed to 830,000 chips!
Nivel 20 : 4,000/8,000, 1,000 ante
Table 447
| Seat | Player | Chips |
| --- | --- | --- |
| 1 | Jared Jaffee | 595,000 |
| 2 | Nick Schwarmann | 925,000 |
| 3 | John Juanda | 425,000 |
| 4 | Daniel Park | 265,000 |
Table 452
| Seat | Player | Chips |
| --- | --- | --- |
| 1 | David Pham | 390,000 |
| 2 | Jonathan D'Souza | 565,000 |
| 3 | Justin Oliver | 197,000 |
| 4 | Michael DeGilio | 778,000 |

Nivel 20 : 4,000/8,000, 1,000 ante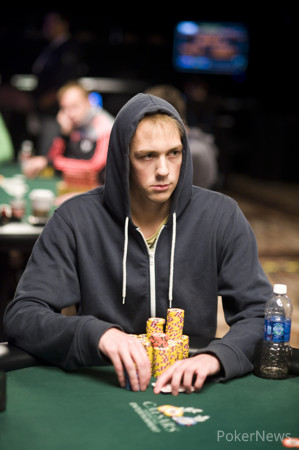 Stephen Chidwick tried one move too many in his quest to climb up the chip counts and has now been eliminated from this event.
His tournament ended, like so many do, with a coinflip; Chidwick pushed


into John Juanda's

. Juanda took the lead on the


flop and stayed ahead as the
and

landed on the turn and river.
Jucător
Fise
Progres

John Juanda

450,000

225,000

Stephen Chidwick

Eliminat

Nivel 20 : 4,000/8,000, 1,000 ante
Stephen Chidwick was almost eliminated but Lady Luck shone down on him and allowed him to crack a pair of kings.
A raise from John Juanda was met with a three-bet all in for 123,000 by Chidwick and an immediate call from Juanda.
Juanda:



Chidwick:


An ill-timed move by Chidwick, but one that would ultimately reap rewards. Chidwick made a flush when the board ran out





and Chidwick doubled through Juanda, who took the bad beat like the seasoned pro that he is.
Jucător
Fise
Progres

Stephen Chidwick

250,000

100,000

John Juanda

225,000

-60,000
Nivel 20 : 4,000/8,000, 1,000 ante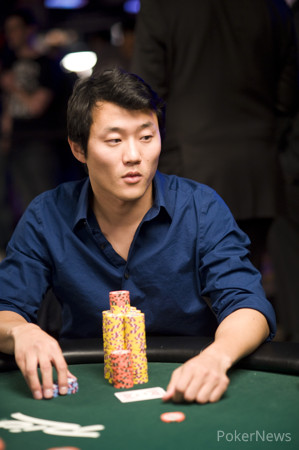 With the flop reading



, Nick Schwarmann check-called a bet of 17,000 by Daniel Park. The dealer turned a blank in the

, and Schwarmann checked once more, prompting Park to continue his line with a wager of 25,000.
Schwarmann instantly announced himself all in for a massive overbet of 700,000, and Park was sent deep into the tank as he faced a bet for his tournament life.
Park began to laugh to himself as he pondered the significance of such a large bet. He sighed more than once, while looking up to the Rio's rafters for an answer.
"Ahhh..." he said, obviously confused by the move put on by Schwarmann. "What?"
Eventually, Park elected to surrender the hand, and when he tossed his cards away Schwarmann immediately tabled the


with a flourish, showing the stone cold bluff for all to see.
"Nice hand," said Park, while Schwarmann's friends along the rail whooped it up in support.
"Did you teach him that," asked Mike DeGilio, who observed the drama from a front-row seat at the table.
"No, that's all Nick Schwarmann," was the reply from the rail. "He's got bigger stones than I do!"
Soon after this hand, Park found himself confronted with yet another difficult decision, this time on a board of





. DeGilio had check-raised Park's bet of 45,000, making it 123,000 to go, and once more Park went into the tank.
Eventually, after checking his cards multiple times and muttering under his breath, Park announced "I call," while waiting for DeGilio's hand to be tabled. When Park saw the


, all he could do was shake his head and offer yet another "nice hand" across the table, along with a few more of his chips.

Nivel 20 : 4,000/8,000, 1,000 ante
David Pham is up to 270,000 after turning the nut straight in a hand with Jared Jaffee.
"How did you call the flop?" asked Jaffee which suggests the chips went in on the turn of the





board, Pham with the


and Jaffee with the


.