Day 2 of Event #38 ($2,500 No-Limit Hold'em Four-Handed) Set to Begin!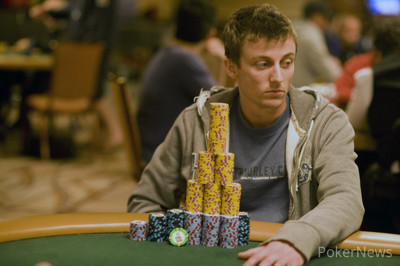 The second day of play here at Event #38 ($2,500 No-Limit Hold'em Four-Handed) is set to begin shortly, with 64 players returning from the initial field of 566, and after yesterday's exciting shorthanded action today should provide plenty of fireworks.
Returning as the chip leader is Nick Schwarmann, a national tournament circuit grinder who celebrated his birthday yesterday by giving himself the gift of a 193,500 stack. Schwarmann went on a serious heater midway through day, moving from 100,000 to 150,000 chips in just a few hands, and with his overwhelming chip lead he is definitely a threat to post wire-to-wire performances.
Trailing Schwarmann in the chip counts are Czech pro Goran Filipovic (173,800), and original November Nine member Ivan Demidov (149,500), who shivered his way to a double up in one particularly chilling hand.
John Hennigan (68,400), John Juanda (67,200), Jon Turner (58,600), Faraz Jaka (31,200), and Maria Ho (24,900) are just a few of the notable names who bagged and tagged last night, and today every four-handed table will be home to a dangerous pro or two.
Check out the PokerNews daily update video to get ready for the action, and then keep it here for continuous live coverage of the World Series of Poker's showcase for shorthanded play.