Chill Out
Nivel 15 : 1,200/2,400, 400 ante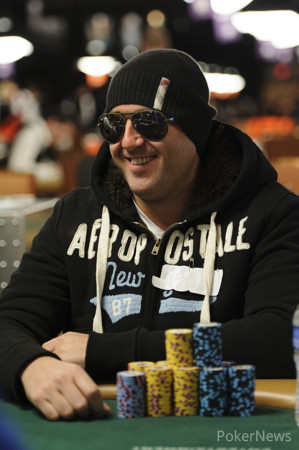 With temperatures in the Amazon Room having plummeted to previously unseen lows, the artificial cold has many of the remaining 27 players talking.
Jon "PearlJammer" Turner has been seen blowing into his hands all day, trying his best to warm up. Maria Ho, meanwhile, was sipping on either a coffee or hot chocolate, while Nicholas Cardyn wore a dashing scarf to ward off the cold. Goran Filipovic has been heard asking passersby on the rail for gloves or mittens to no avail.
One player who does not appear to be fazed by the frigid temperatures, however, is Russian pro Ivan Demidov. Despite shivering his way to a double up yesterday, the Moscow native appears to have acclimated to the cold, as he is still sporting a short-sleeved T-shirt here today.
With the Amazon Room now being called the Antarctic Room by many players, we've compiled a few choice tweets regarding the freezer like conditions that have swept through the Rio.
Love my iPad, but a little embarrassed that I just now realized it could be used as a hand warmer to brave the Rio weather!
Follow @PearlJammed
@WSOPTD Any chance to turn A/C a bit warmer in tourney area. Players will feel more comfortable& Rio gets to save electric. #WinWin4Every1
Follow @LuckBoxJuanda
I'm not saying it's cold in here @WSOPTD but the drip from my nose just formed an icicle! #NotComplainingThough
Follow @SavagePoker