Event #39: $1,500 Seven-Card Stud Hi-Low 8-or-Better
Zilele: 3
Event #39: $1,500 Seven-Card Stud Hi-Low 8-or-Better
Ziua 3 început
| Table | Seat | Player | Chips |
| --- | --- | --- | --- |
| 446 | 1 | Joseph Hertzog | 249,500 |
| 446 | 2 | Linda Johnson | 161,500 |
| 446 | 3 | Raul Paez | 155,000 |
| 446 | 4 | --empty-- | -- |
| 446 | 5 | --empty-- | -- |
| 446 | 6 | --empty-- | -- |
| 446 | 7 | Jose Paz-Gutierrez | 58,500 |
| 446 | 8 | Daniel Idema | 218,500 |
| | | | |
| 448 | 1 | --empty-- | -- |
| 448 | 2 | Layne Flack | 8,500 |
| 448 | 3 | Randy Sim | 151,000 |
| 448 | 4 | Matt Vengrin | 504.500 |
| 448 | 5 | Tony Gill | 249,500 |
| 448 | 6 | --empty-- | -- |
| 448 | 7 | Richard Tatalovich | 13,000 |
| 448 | 8 | Artie Cobb | 138,000 |
| | | | |
| 453 | 1 | Stephen Sperling | 92,000 |
| 453 | 2 | Kristy Gazes | 20,000 |
| 453 | 3 | Mike Leah | 220,000 |
| 453 | 4 | Young Phan | 115,000 |
| 453 | 5 | Issa Tadros | 81,500 |
| 453 | 6 | --empty-- | -- |
| 453 | 7 | Ying Chu | 75,000 |
| 453 | 8 | --empty-- | -- |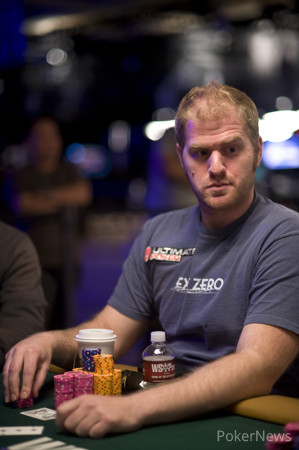 The third and final day of Event #39: $1,500 Seven-Card Stud Hi-Low 8-or-Better is set to begin in an hour's time. and leading the way with over 20 percent of the chips in play is American Matt Vengrin. No other player bagged more than a quarter of a million chips, while Vengrin will start today with over half of a million and his eyes set on what would be his first career bracelet. His closest competitors are Tony Gill and Joseph Hertzog, who both bagged 249,500.
Mike Leah and Daniel Idema, who both have final tables under their belt at the 2013 World Series of Poker, enter Day 3 fourth and fifth in chips respectively. If either player wins, it would mark the eighth bracelet for Canada this summer, and the ninth of the year if you include Daniel Negreanu's win in the WSOP Asia-Pacific Main Event. It would also be Idema's second career bracelet.
Poker Hall of Famer Linda Johnson bagged the sixth largest chip stack after Day 2, and is looking for her second career WSOP bracelet, while WSOP legend Artie Cobb is looking for bracelet number five and Layne Flack number seven. If Flack achieves this feat it would be a hell of a comeback story - he will start the day with less than a big bet.
The cards will be in the are at 2 p.m. We hope to see you then!
Nivel: 19
Limite: 6,000/12,000
Ante: 1,500
Nivel 19 : 6,000/12,000, 1,500 ante
The cards are in the air here on Day 3. It's bracelet time.
Nivel 19 : 6,000/12,000, 1,500 ante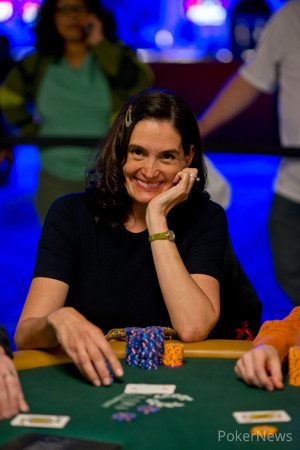 Kristy Gazes, showing a

completed with half of her remaining chips, and Issa Tadros and Ying Chu gave her action. Chu fired out on fourth when he caught his second baby, and Gazes got the last of it in. Tadros and Chu called. The two active players chcked fifth.
Gazes:




Tadros:




Chu:




Gazes voiced her approval after catching the ace on fifth, but Chu bet into the side pot on sixth despite Tadros showing a strong board. Tadros called, and he called another bet on the end. Chu showed



for a wheel, and he scooped the pot.
Nivel 19 : 6,000/12,000, 1,500 ante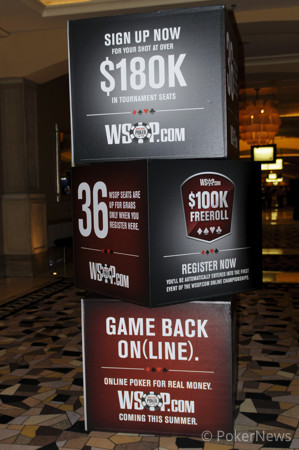 The buzz inside the walls of the Rio extends beyond just the tournaments on the 2013 World Series of Poker schedule. Online poker in Nevada is a very, very hot topic right now, and WSOP.com is making a lot of noise.
While the site has yet to launch, you can head to the Lambada Room of the Rio or look for one of the beautiful and friendly WSOP.com ladies walking the hallways to sign up for a free, personal WSOP.com online poker account. This is a great way to get a jump on the site's registration, and plenty of people have already taken this opportunity.
What's more is that the WSOP will be hosting daily raffles for everyone that has taken the time to register for WSOP.com at the Rio. What can you win? Plenty of fantastic prizes including 36 WSOP seats!
Players 21 years of age and older who sign up for a WSOP.com account will automatically be entered into the "36-Seat Giveaway" where a randomly-selected winner will win a seat into the next day's first WSOP gold bracelet event. One of the events eligible in this promotion is the $111,111 One Drop High Roller No-Limit Hold'em tournament that is expected to feature a $10,000,000 prize pool and allow you to play poker with the biggest names in the game. In total, $182,333 in WSOP seats, including a seat to the WSOP Main Event, are being given away during this one-of-a-kind WSOP.com promotion.
In addition to the 36-Seat Giveaway, a "Hot Seat" promotion will allow any player who signs up for a WSOP.com online account and wears their WSOP.com patch on their chest at the table while playing an event to be randomly selected to receive 500 bonus dollars deposited directly into their WSOP.com online account once the site has received all regulatory approvals and launches.
With 62 WSOP gold bracelet events and three winners promised for the Main Event, this promotion includes $32,000 worth of value to those participating.
Nivel 19 : 6,000/12,000, 1,500 ante
| Table | Seat | Player |
| --- | --- | --- |
| 453 | 1 | Richard Tatalovich |
| 453 | 2 | Joseph Hertzog |
| 453 | 3 | Young Phan |
| 453 | 4 | Layne Flack |
| 453 | 5 | Daniel Idema |
| 453 | 6 | Mike Leah |
| 453 | 7 | Issa Tadros |
| 453 | 8 | Randy Sim |
| | | |
| 456 | 1 | Stephen Sperling |
| 456 | 2 | Tony Gill |
| 456 | 3 | Artie Cobb |
| 456 | 4 | Raul Paez |
| 456 | 5 | Jose Paz-Gutierrez |
| 456 | 6 | Matt Vengrin |
| 456 | 7 | Linda Johnson |
| 456 | 8 | Fei Chu |
Nivel 19 : 6,000/12,000, 1,500 ante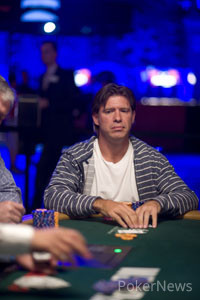 On the very first hand of the day, prior to Kristy Gazes' bust and the two-table redraw, Layne Flack received a full double.
"If I'm the bring in," he said as the dealer began to pitch. "I'm not even f***in' lookin'."
Sure enough, the

plopped right in front of "Back-to-Back" Flack, and with a grin on his face he completed to 6,000. Matt Vengrin called with the

showing, the cards were tabled, and the boards ran out like this:
Flack: (

) /




/


Vengrin: (


) /




/

Vengrin turned over the

on seventh for a brick, whileFlack flipped over the

on seventh, giving him the entire pot.
"I've accomplished three of my goals today," Flack said later. "Win a purple (T5,000) chip, finish my meal, and make the two-table redraw."
Jucător
Fise
Progres

Layne Flack

20,000

11,500
Nivel 19 : 6,000/12,000, 1,500 ante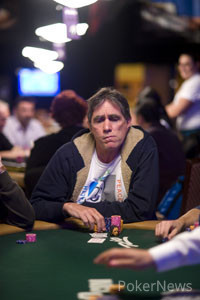 Young Phan got Richard Tatalovich all in on fourth street after betting another player out of the pot.
"Alright, protection," Tatalovich said.
Phan:


/



Tatalovich:


/

Phan was well ahead of his hand though, with four to a straight and a low, as well as the potential for higher pairs. Phan received not one, but two sevens from the dealer on his next two cards, and he made a club flush on the end for good measure. Tatalovich was done in 16th.