Catching Up With Matt Berkey on Break
Nivel 26 : 20,000/40,000, 5,000 ante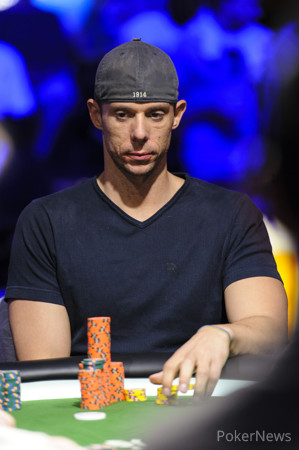 by Pamela Maldonado
Matt Berkey has three World Series of Poker cashes for the 2013 festival including one final table.
He finished third in the $3,000 No-Limit Hold'em Six-Handed event to collect $199,733. He now sits as one of the six players in the final table of Event No.40: $1,500 No-Limit Hold'em, which began on Saturday.
With 12 WSOP cashes and nearly $600,000 in live tournament WSOP earnings, Berkey has a fighting chance to push his way through to victory for his first WSOP bracelet.
During break, we grabbed Berkey to discuss his success at the 2013 WSOP, his online poker history, and his strategy for the final table.
PokerNews: You already have three cashes and one final table, how would you say your summer is going for you?
I don't want to say better than expected because you always hope for the best but I couldn't have expected two final tables. Overall I am happy, pleased with my game but of course, you think you could always being doing something more. There is always something you can learn to become a better player. But so far I'm happy.
You were equally successful online as you are live. What is the major difference for you and what adjustments have you had to make?
I actually hate online poker. I've been a live player from the beginning and prefer to play live events hands down. As far as adjusting it was complete opposite for me. While everyone had to transition from online to live, I had to make the transition from live to online. This is my home, and this (live) is what I appreciate playing.
Sine you don't like online poker compared to live, are you still hoping for online poker to come back to the United States?
Oh yea. I say I hate it because I don't enjoy playing it not because I think it's bad for the poker economy. It's fantastic and we need it back desperately. I was one of the ones who was fist pumping a little bit when it went away because I wanted the learning curve to slow down. The new kids weren't learning as quickly but it didn't matter because it was just sucking so much money out of the economy that everything else went dry.
Was there any monumental hand that helped you catapult to the final table?
Very early in Day 1, actually. Blinds were like 100/200, it was heads-up and I three-bet


out of the blinds. We both had like 20,000 and he four-bet small and I called. The flop was



and I checked, he bet 3,500 and I shoved. He called with


and I held. He belittled me for the next half hour before he busted. He actually wanted to bet me that I wouldn't run deep and I wanted to bet my life that I would. I wish I had because look where I am today. It was just a fun situation. Obviously he was the favorite but that's tournament poker for you.