Goldman's Stack Grows

Nivel 22 : 8,000/16,000, 0 ante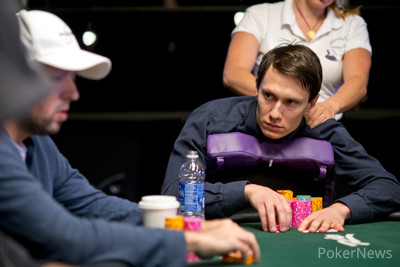 Lee Goldman is making a charge up the leaderboard in an effort to catch Timo Pfutzenreuter. Just now he picked up a nice pot without a showdown in a four-way hand involving Ville Mattila (small blind), Tony Gargano (big blind), Steve Gross (cutoff), and himself (button).
The action began with a raise to 26,000 by Gross and calls by the other three. The flop came



. Mattila checked, then Gargano bet 94,000. Gross responded by making it 210,000 to go, then after pausing for quite a while Goldman came back with a big pot-sized reraise.
Mattila folded right away, and Gargano took just a little longer to let his hand go. Gross then considered for some time before finally folding as well.