All About The Benjamins (A Title by Jamie Rosen)
Nivel 9 : 300/600, 75 ante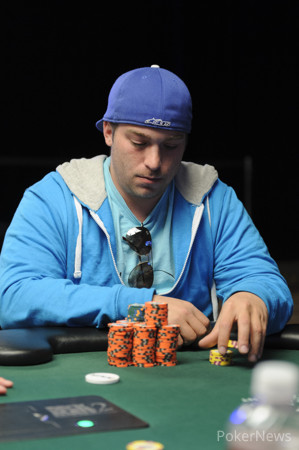 We came to Jamie Rosen's table just as it was about to break. While we were moving to the table, a pot of over 40,000 chips had be piled into the middle of the table. We asked Rosen for the preflop action and he informed us what had happened.
From middle position a player raised, he was called by Andrew Watson, before Gregory Benjamins reraised to 4,550. With action back on the first player he moved all in for roughly 18,000. Watson then moved all in over the top for roughly 26,000. With action back to Benjamins, he went into the tank for several minutes. He had a covering stack on both players.
Benjamins stood up from his chair and rustled with is hat while talking himself through his decision out loud, speculating what hands the players could have and more. Eventually, the tank had gone on long enough and Rosen called for a clock while Benjamins was thinking.
"If you had aces here, you'd be my official favorite person," Watson said to Benjamins before Rosen called the clock.
About 15 seconds into his clock, Benjamins flashed his hand


, whether accidental or not this is unknown, then he announced a call, creating an almost 70,000 chip pot.
First All In Player:



Watson:


Benjamins:


The board came out





giving the chop pot to Benjamins and Watson. The all in player was eliminated. As the floor was already at the table, he gave Benjamins a one round penalty for exposing his hand before making a decision. Benjamins accepted what happened, and all the players began moving to their new table.
"I can see the headline now," Rosen said, putting his hand above his head. "All about the Benjamins."