Final Table Interview: Chris DeMaci
Nivel 23 : 10,000/20,000, 3,000 ante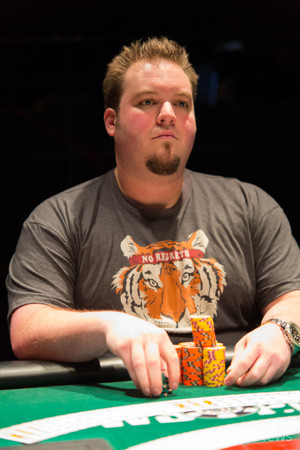 After two eliminations early in the day, a final table was reached here in Event # 42. One of the nine remaining players is Chris DeMaci, who has nearly $1.5 million in live tournament winnings plus $1.4 million in online tournament cashes to his credit.
Before the final table began we chatted with DeMaci about his transition into live tournaments, his fear of flying, and his plan of action for the day.
PokerNews: How did online poker compare to live poker for you?
DeMaci: I exclusively played tournaments online (before Black Friday). I played live cash for the first five-to-six years of my career at Commerce. I got bored of that scene and so one of my friends suggested to give online poker a try. He sent me $5,000 online to play and from there I kept running it up. It was what led me to keep honing my skills with tournaments.
You mostly stick to WSOP and World Poker Tour events; why not branch out to European Poker Tour events or other circuits?
It's embarrassing to say but I don't like to travel because I am afraid of flying. I've never been to the Bahamas for the PCA, or to London, or anywhere else really. It sucks because I think of all the equity I've missed over the years. It's interesting though because there are different ranking systems and I'm consistently in the top 100 with only playing maybe 25 percent of tournaments compared to everyone else. There is no punishment for when you play more and do bad but it's only good results; so I take pride in knowing I play less than everyone else and still on the top.
You're probably one of the most recognizable names at the final table. Do you think you have an edge over the other players?
I'm just going to play my game. I do think I have an edge in these tournaments but I'm still going to pay attention to every move and pick my spots.
You're sitting in the middle of the chip counts. Do you have a plan of action for the rest of the day?
The guy on my left (Ariel Celestino) is someone I've never played with and he seems to be a really aggressive Brazilian player with a big rail. So I'll analyze the moves he makes and see what his tendencies are. I'll also try to pick on some players on my right and take it from there.
Would you say Celestino is your toughest competitor?
I actually don't know any of the players on my table, including him. I won't really worry about who my competitors are. It's the final table, the other eight guys are my competitors so I just have to focus on playing my best game I can.