No-Limit 2-7 Draw Lowball Kicks Off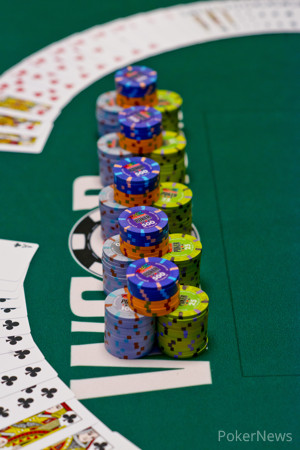 Welcome to our coverage of Event #43: $10,000 No-Limit 2-7 Draw Lowball here at the 2013 World Series of Poker! We are live from the Amazon room to provide you with live updates from the tournament floor for what is arguably one of the most coveted bracelets on the schedule. Why, you ask? Many top name pros refer to No-Limit 2-7 Draw Lowball as "pure poker". Players play without community cards or upcards and are therefore given zero information about their opponent's hand when compared to their own. With this in mind, the game sparks lots of action and a "go with your reads" mentality. This, coupled with the $10,000 entry fee, means that this tournament will spawn one of the smaller fields of this year's WSOP. While the field will remain small, the competition will be fierce, as most of the game's top professionals will be taking a seat for this event.
Last year this tournament had just 101 runners and was won by the one and only Nick Schulman. Schulman was able to defeat Mike Wattel heads up to claim not only his second WSOP bracelet, but also his second bracelet in this very event (Schulman also won the $10,000 2-7 bracelet in 2009). Also present at last year's final table was John Juanda, who defeated Phil Hellmuth heads up in this event in 2011, famously denying the PokerBrat what would have been his then 12th bracelet. Other names to appear at last year's final table include George Danzer, Benjamin Parker, Ashton Griffin, and Bob Bright.
We expect to see fireworks fly early here in the Amazon room as players attempt to consistently show down the worst hand possible in order to clasp a gold WSOP bracelet around their wrist. Play kicks off at 5:00 PM PST, so be sure to stay tuned as we bring you all of the action from the felt!